Italy Manages to Stay Out of the Junk Yard: Taking Stock
(Bloomberg) -- Euro Stoxx 50 futures are up 0.5%. Chinese equities soared 4.5% after Beijing vowed to help the private sector and cut taxes and there is speculation the state is buying into the equity market. As macro and politics have been driving the market, this will be another crucial week to determine direction with the ECB rate meeting on Thursday and U.S. third quarter GDP on Friday.
Italy was cut by Moody's and is now one level above junk. Still, the "stable" outlook may provide the silver lining needed by investors that the situation is not yet dramatic, even if the Italian government expects its budget to be rejected by the European Commission. Italian stocks will once again be in focus, particularly banks. Watch UniCredit, Intesa Sanpaolo, Mediobanca, FinecoBank and UBI Banca.
Still in Italy, Fiat will be another stock to watch after the carmaker agreed to sell its high-tech car-parts unit, Magneti Marelli, to KKR's Calsonic Kansei for 6.2 billion euros. Investors will be paying attention to any additional return this may trigger. Airlines will also be closely watched after Ryanair reported a drop in half-year profit and put future buybacks on hold because of Brexit uncertainties.
Tomorrow is the Kering sales update and it will be closely watched as the battered sector is in search for some good news. Luxuries were hit by a Chinese border crackdown, slowing growth fears and a disappointing LVMH sales update. While the shares have been heavily sold off, analysts estimates have barely come down and 74% of Bloomberg consensus analysts have a buy rating on Kering.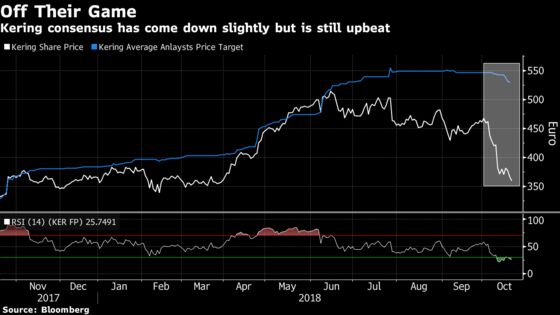 So where is the value in the equity market? Banks are in the gutter and autos continue to be a value trap. Michelin and Daimler reminded us last week with a profit warning that the car industry is not in good shape. With a 3.35 euros dividend forecast for 2018, Daimler is now trading at 7.1% dividend yield, while the Dec 19 dividend swap plunged from 3.24 to 3.07 on Friday according to brokers, hinting at a possible dividend cut. Investors will be looking forward to updates from Renault on Tuesday and Peugeot on Wednesday.
Nevertheless, the recurrent value vs growth theme is gaining traction. Value stocks have started outperforming the broader market but still have some catching up to do. Even in the U.S., the trend cannot be ignored: JPMorgan Asset Management said the current complacency over the valuation gap between growth and value stocks is a bad omen for future equity returns.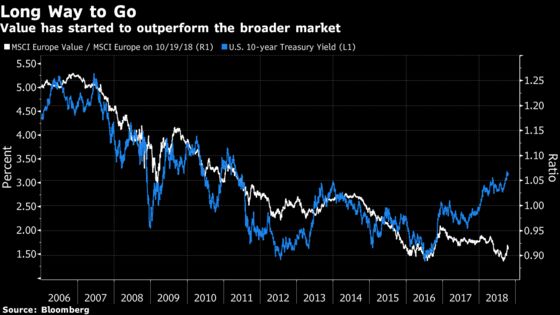 Elsewhere, a Brexit deal is 95% complete, according to Prime Minister Theresa May, although her concessions to the EU are likely to trigger a government crisis. Tory rebels are now only two MPs short of the threshold needed to trigger a leadership contest. The pound is stable above $1.30. In Saudi Arabia, explanation about the death of journalist Jamal Khashoggi have not convinced any western leader and Germany even decided to freeze weapon sales. That will keep oil equities and defense contractors in focus today.
"We are bullish on value vs growth, and despite the recent rally, the relative performance of value vs growth still looks low relative to relative EPS," wrote Morgan Stanley strategist Matthew Garman in a note to clients. "Earnings momentum favors value too as relative EPS revisions are at a 7M high," he added.
NOTES FROM THE SELL SIDE:
RBC upgraded Pernod Ricard to sector perform from underperform, citing strong 1Q sales, early signs of operational leverage and share price underperformance. The price target is raised to EU120 from EU117.
Morgan Stanley said Teleperformance is "undeniably best in class," but in a sector facing increasing threats. The bank initiated stock at equal-weight, with a EU154 price target.
Henkel is losing out to rival P&G's strong sales growth in the U.S. which supports the view that reasons for its weak performance in the country are "broad-based, chronic and competitive," Bernstein analysts say in note.
Morgan Stanley cut ProSieben to street-low price target of EU17.6, as ProSieben's 3Q advertising revenue has probably been below expectations, on soft demand from fast-moving consumer goods, autos and telco advertisers.
Ryanair is putting plans for future share buybacks on hold due to uncertainty surrounding the U.K.'s proposed exit from the European Union.
Kepler Cheuvreux says the full effect from Europe's landmark new market regulation that forced brokers to charge for research has yet to be felt.
Philips Third Quarter Adjusted Ebita 2.7% Below Estimates
Philips Starts Share Buyback of Up to EU174m to Cover Stock Plan
Watch Italy for Moody's Reaction, With Response to EU Ahead
Petra Diamonds First Quarter Revenue $80.2 Mln
Salini Gets EU90m Contract for Urban Project in Switzerland
Noreco, Shell Agree on Fixed Price Deal for Offtake Until 2020
BinckBank Third Quarter Net Interest Income EU8.02 Mln
WorldRemit Names Breon Corcoran CEO
Belgium to Replace F-16 With Lockheed Martin F-35: Belga
Pfizer, Merck KGaA's Bavencio Hits Target in Kidney Cancer
Morphosys Sees MOR208 Gaining FDA Approval by Mid 2020: Welt
Roche's Tecentriq Improves OS in Some Breast Cancer Patients
Novartis's Alpelisib Improved PFS in Phase 3 Study
Bilfinger Sees U.S. Bribery Case Closing by End of Year: FAS
C.Banner Launched Strategic Review of U.K.'s Hamleys: Sky News
B&C Rejects 'Hostile Takeover' Attempt After UniCredit Report
TECHNICAL OUTLOOK for Stoxx 600 index:
Resistance at 365.1 (38.2% Fibo); 371.9 (Sept. low)
Support at 360 (January 2017 low); 353.2 (50% Fibo)
RSI: 31.7
TECHNICAL OUTLOOK for Euro Stoxx 50 index:
Resistance at 3,262 (March low); 3,274 (Sept. low)
Support at 3,194 (50% Fibo); 3,072 (61.8% Fibo)
RSI: 33.9
MAIN RESEARCH AND RATING CHANGES:
UPGRADES:
Atea upgraded to hold at DNB Markets; Price Target 111 Kroner
Bankia upgraded to neutral at BPI; PT 3.55 Euros
Bankinter upgraded to buy at BPI; PT 8.95 Euros
Hunting upgraded to outperform at Macquarie; PT 7.90 Pounds
Ophir Energy upgraded to buy at Jefferies; PT 65 Pence
Pernod Ricard upgraded to sector perform at RBC
Rexel upgraded to buy at Kepler Cheuvreux; PT 14 Euros
Software AG upgraded to equal-weight at Barclays; PT 46 Euros
Tullow upgraded to buy at Jefferies; PT 2.90 Pounds
Valeo upgraded to hold at Kepler Cheuvreux; PT 34 Euros
Volvo upgraded to buy at Kepler Cheuvreux; PT 160 Kronor
Wessanen upgraded to buy at ABN Amro Bank
Cairn Energy cut to underperform at Jefferies; PT 1.90 Pounds
EnQuest downgraded to underperform at Jefferies; PT 25 Pence
Intu downgraded to hold at Berenberg; PT 2.10 Pounds
Lehto Group downgraded to hold at SEB Equities; PT 5.80 Euros
Novartis downgraded to hold at Baader Helvea; PT 85 Francs
Publicis downgraded to hold at Liberum; Price Target 65 Euros
MSCI Asia Pacific down 0.2%, Nikkei 225 up 0.5%
S&P 500 down 0%, Dow up 0.3%, Nasdaq down 0.5%
Euro up 0.02% at $1.1516
Dollar Index down 0.03% at 95.69
Yen down 0.12% at 112.69
Brent up 0.3% at $80/bbl, WTI up 0.3% to $69.3/bbl
LME 3m Copper up 0.6% at $6256.5/MT
Gold spot little changed at $1226.5/oz
US 10Yr yield little changed at 3.2%
MAIN MACRO DATA all times CET:
11am: (EC) 2017 Govt Debt/GDP Ratio, prior 86.7%
11am: (SW) Bloomberg Oct. Sweden Economic Survey
11:05am: (NO) Bloomberg Oct. Norway Economic Survey