Italy Faces Off With EU as Pressure Mounts Over Budget
(Bloomberg) -- The gloves came off in Italy's fight with the European Union, as several of the bloc's leaders attacked the populist government in Rome and the EU's executive warned that its budget draft won't fly.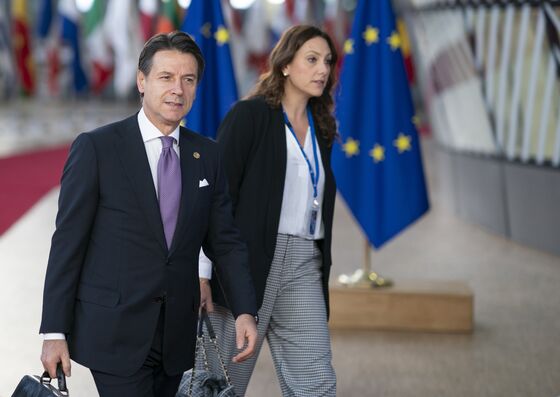 Markets took fright at the prospect of more upheaval in the euro area's most indebted nation after Greece, with the Five Star Movement-League coalition setting itself on a collision course with Brussels over its spending plans.
Ten-year yields reached their highest since February 2014 on Friday after Prime Minister Giuseppe Conte, a law professor with no previous political experience, failed to convince his fellow EU leaders that Italy should be allowed to flout the EU's fiscal rulebook.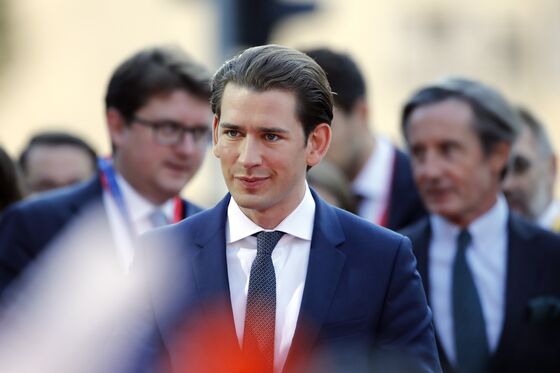 "We have no understanding whatsoever for Italy's draft budget plan," Austrian Chancellor Sebastian Kurz, who holds the EU's rotating presidency, told reporters. "We in Austria will certainly not pay for the debts of others and we will not pay for left-wing populist election promises."
Italy was not on the agenda of the EU summit but its EU-skeptic stance on migration and above all its budget defiance came up in all the briefings by leaders. While Conte was arguing Italy's case in one-on-one talks with Chancellor Angela Merkel, President Emmanuel Macron and Dutch Prime Minister Mark Rutte, the EU commission dispatched a letter to Rome saying its spending plans were excessive. It gave the government until Monday to provide an explanation for the "obvious significant deviation" from the rules.
The extra yield investors demand to hold Italy's 10-year government bonds over comparable notes in Germany touched 330 basis points amid the standoff, the most since April 2013. The increase in the yield premium also spilled over elsewhere, with the FTSE-MIB Index of shares falling for a third straight session in early trading.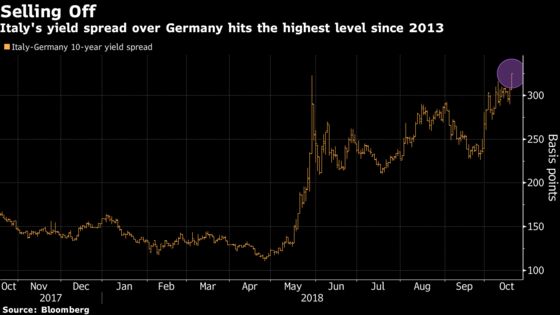 Rutte took Conte to task after their meeting. "I don't believe you can spend yourself out of a crisis and into growth," he said. "The best fast-track to growth is reducing the deficit."
While Conte lobbied in Brussels, EU Commissioners Valdis Dombrovskis and Pierre Moscovici wrote to the Italian government requesting changes to its draft budget, saying both the budget's fiscal expansion plans "and the size of the deviation are unprecedented."
Moscovici delivered the letter in Rome during a meeting with Finance Minister Giovanni Tria.
It marks the start of a process that could culminate in a decision by the commission to issue a negative opinion next week -- essentially rejecting Italy's budget -- and asking the Italian government to send it back with revisions. That has never happened before.
Populist coalition leaders Luigi Di Maio of the anti-establishment Five Star Movement and Matteo Salvini of the anti-migrant League have both ruled out making any changes to the budget, which sets a wider deficit as it seeks to start to deliver on election promises including a "citizen's income" for the poor, tax cuts and a lower retirement age.
Divisions within the coalition added to the political turbulence, with continued wrangling over the extent of a tax amnesty. Di Maio said in a video on his Facebook page that the spread had risen "because the markets think that the government is no longer united." He asked for a cabinet meeting "to clear things up."
Salvini refused, saying he had other engagements and needs to see his children. In an interview with Il Messaggero published Friday, he said there's no crisis within the government, though he also said the tax plans that have riled his partner won't be changed.
Rome's clash with Brussels will escalate further if Italy opts not to change its deficit target. While Brussels has no real powers over national budgets, governments seek to avoid a reprimand because of the potential market implications. If the commission finds a country persistently breaks deficit rules, it could eventually open a so-called excessive deficit procedure -- a process where a country has to reduce its deficit by a set deadline or risk sanctions of up to 0.2 percent of output.
While other euro-area countries including Belgium -- home to the EU executive -- received letters requesting clarification of budget plans, Italy's case is more extreme. The letter to Rome represents a "significant political rift" with the rest of the euro area, said Guntram Wolff, Director of Brussels-based Bruegel think-tank.
"It is of course correct that sanctions come late and the process to sanctions is long," Wolff said. "But what matters is not the sanction itself but the fact that there is a clear political conflict that the commission cannot and does not want to sweep under the carpet."