Italian Bonds and Stocks Take a Beating on Coronavirus Lockdown
Italian bonds and stocks tumbled as investors delivered their verdict on Italy's coronavirus crisis and Prime Minister Giuseppe Conte's new efforts to contain it.
Italy's benchmark FTSEMIB Index dropped as much as 11.2%, the most since June 2016. The benchmark 10-year bond yield rose 25 basis points to 1.33 and the two-year yield soared by 45 basis points to 0.49%. World benchmarks including Europe's STOXX 600 also plunged after a breakdown of talks between OPEC and Russia prompted a sharp drop in oil prices.
Conte on Sunday announced far-reaching measures to control the spread of the virus, including a travel restrictions on about a quarter of Italians concentrated in its most productive northern regions. On Monday, however, Italians could move in and out of the controlled areas with no more than a self-declaration saying their trip is justified.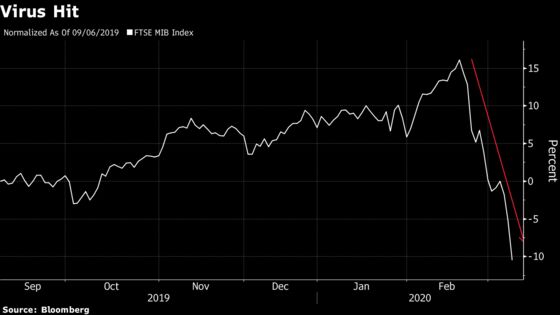 The number of deaths from the virus jumped by more than 50% to 366, health officials said on Sunday and Italy became the most seriously affected country after China, with more than 7,000 confirmed cases. The prime minister himself has been tested himself and the result is negative, he told La Repubblica in an interview.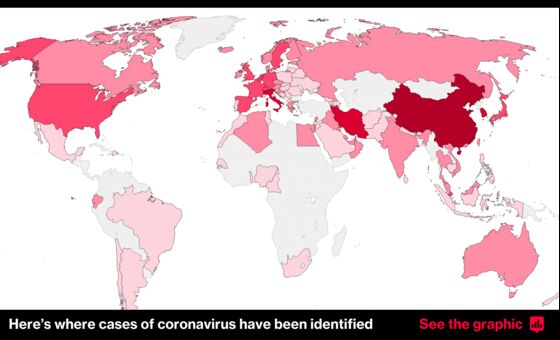 The outbreak is testing the limits of the country's health system and is a body blow for an economy that was already on the brink of recession and it's straining the authority of Conte, a political rookie with an unstable coalition, as he tries to impose his will on a region with some 17 million people.
The new restrictions will limit activity in the productive northern regions -- home to Italy's biggest banks and companies including supercarmaker Ferrari -- to prevent a wider economic crisis.
The iconic Ferrari, which builds all its cars at its Maranello plant near Modena said Monday it has activated all of the measures necessary to allow their employees to continue working and maintain the company's operational continuity for now.
The Finance Ministry said Monday that it's necessary to take a short-term economic hit now to prevent a wider economic crisis. The government decided on Thursday to double emergency spending to 7.5 billion euros ($8.5 billion) to help cushion the economic impact of the virus. That figure will rise even further, La Repubblica reported Monday, citing and interview with Conte.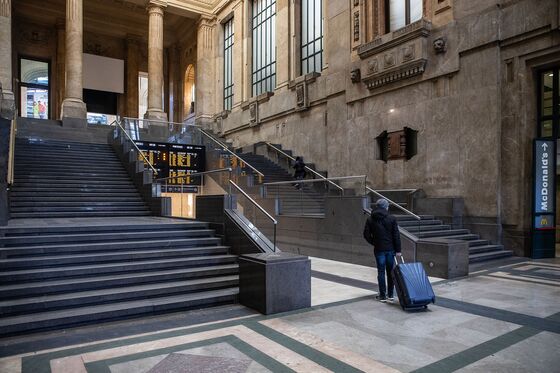 The new rules restrict anyone from leaving or entering the worst-hit regions without a "demonstrable" business or health reason and threatened to shutter bars unless they ensure patrons keep at least one meter apart.
Yet trains were running and airports were open in the restricted areas Monday. However national airline Alitalia SpA said it's suspending all international and domestic flights to and from Milan's Malpensa airport from Monday until April 3 and only operating domestic travel to and rome Linate airport.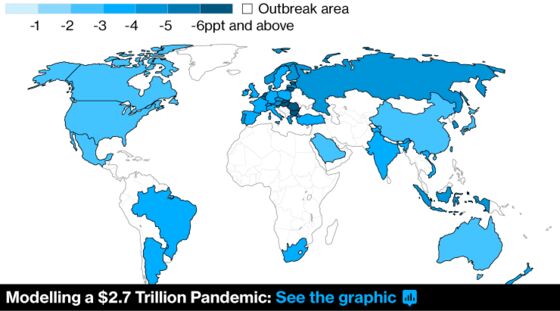 Regional governors and local mayors have said it's unacceptable that they only learned of Conte's measures through media leaks as the prime minister looked to be struggling to keep a grip.
Conte's officials initially promised a press conference for Sunday evening. Then they announced the health minister would be answering questions. In the end it was civil protection chiefs who gave a briefing on the spread of the virus.
"We absolutely need one thing: CLARITY, CLARITY, CLARITY," opposition leader Matteo Salvini wrote in a Facebook post. Salvini listed a host of questions he needed Conte to answer: who can do what? where can we go? who can work? who can travel?
Despite questions of enforcement several businesses and institutions have adopted their own measures, generally lasting through April 3, the duration of the government restrictions. The Pompeii archaeological site near Naples and the Vatican museums are shut, and an exhibit of Renaissance master Raphael in Rome was halted.
In the Vatican, where one case has been diagnosed, Pope Francis celebrated his weekly general audience not from the window of the Apostolic Palace, but from the library via streaming to avert the risk of crowds in St. Peter's Square spreading the virus.
"This Angelus prayer today is a bit strange, with the Pope caged in the library, but I can see you, I am close to you," Francis said, before appearing briefly at the window to bless the faithful.