Italy Bonds Extend Drop as Investors Await EU Response to Budget
(Bloomberg) -- Italian bonds dropped for a third day as investors remain wary of potential friction between the populist government and European Union over the country's budget proposal.
Two-year yields led increases with investors bracing for comments from EU leaders on the sidelines of a Eurogroup meeting in Luxembourg. Italy's Five Star Movement-League coalition is still to lay out growth targets that formed the basis for the 2019 deficit target of 2.4 percent, which spooked investors Friday.
Italy was said to get a rebuke as euro-area finance ministers held talks on its budget at the Luxembourg meeting on Monday, even though the issue wasn't on the formal agenda, according to three people familiar with the matter who declined to be named. European Commissioner for Economic and Financial Affairs Pierre Moscovici said the budget amounts to a "very, very significant" deviation from Italy's previous projections and almost certainly violated the rules.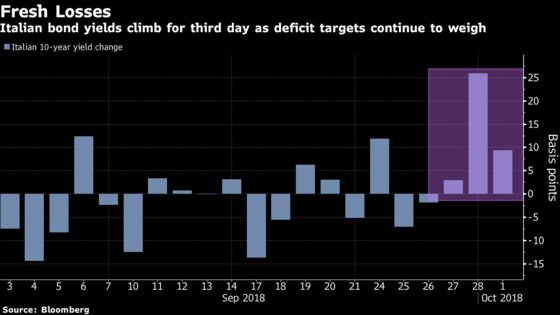 Italian bonds have slumped since the budget deficit was announced late on Thursday, with the full proposals needing to be handed over to the European Commission for review on Oct. 15. Any rejection by the EU could cause rifts between Italy's euroskeptics and the trade bloc, creating further market volatility.
"Headlines suggesting the EU will look to reject the budget all but places the populist coalition and the EU on a potential collision course," said Matthew Cairns, a strategist in London at Rabobank International. "That is feeding straight into BTP levels this morning."
The higher-than-expected 2019 budget target is not a challenge to EU limits, Finance Minister Giovanni Tria told Il Sole 24 Ore in an interview published over the weekend, adding that he had never threatened to quit following reports of disagreements between him and coalition leaders.
'Gentlemen of the Spread'
Italian Deputy Premier Matteo Salvini was cited by newswire Ansa as saying that next year's budget will bear fruit and that "the gentlemen of the spread" will understand, referring to the yield spread on the nation's bonds over German bunds.
The "spread and stock market can go up or down, ours is a budget which invests in labor and so the results will become visible and the gentlemen of the spread will understand," he was reported as saying.
Italy's two-year yields extended their increase during the afternoon session, climbing by as much as 33 basis points to 1.37 percent, the highest level in nearly a month. Those on 10-year notes were higher by 15 basis points at 3.30 percent, with the yield spread over their German peers at 283 basis points.
The benchmark FTSE MIB stock erased earlier gains to fall for a fourth day, dropping 0.6 percent. It declined 3.7 percent Friday. Citigroup cut Italian banks to neutral from overweight on Monday, citing the political uncertainty.
Popular Italy hedges continued in the market Monday, with traders placing call trades on two-year German bonds, called Schatz. Such a trade involves positioning for a large gain, which could come from a flight to safety. Meanwhile, Natixis SA strategists targeted a Italy-Germany 10-year yield spread of 300 basis points, focusing on potential ratings downgrades from Moody's Investors Service and S&P Global Ratings.
"A wave of negative rating actions would have far greater implications than a simple sell-off of Italian assets, one would assume that the Italian government would end buckling under the pressure," wrote strategists led by Cyril Regnat. "If both Moody's and S&P decide to downgrade Italy and maintain a negative outlook on the debt, this would pave the way for significantly wider spreads, possibly around 400 basis points."