Bears Are Betting Against Italy Bonds With 5-Times Leverage
(Bloomberg) -- Add another bearish voice on Italian sovereign debt -- this one sounded in the passive world.
A tiny yet risky exchange-traded product listed in Europe that simulates a short position in Italian bond futures has tripled in size since the start of the month to its largest since the populist coalition was formed in May. At 26.3 million euros ($29.7 million), assets are modest, but they tell only half the story. With an eye-watering five-times leverage, positions in the Boost BTP 10Y 5x Short Daily ETP are the equivalent of shorting about 132 million euros of Italian bond futures.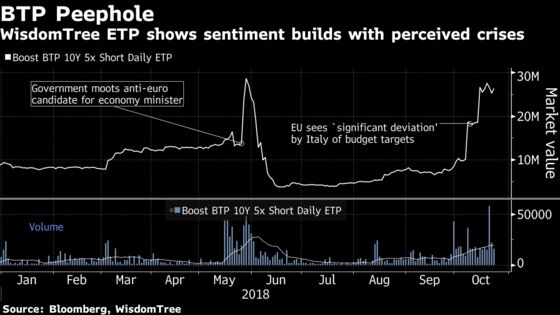 It's a rare snapshot of direct bearish positioning in Italy's 2.3 trillion-euro sovereign debt market, which has come under intense selling pressure this year.
There's no public disclosure on long-short positioning in the vast futures market, with ETPs one of the few places to see such bets in the wild. Options on futures can be illiquid, reducing the appeal of prices and volatilities as soft indicators of sentiment.
In addition to Boost, which is owned by WisdomTree, Societe Generale SA also offers inverse products on Italian debt, which gain when prices fall and vice versa.
While WisdomTree has products that offer short positions in U.S., U.K. and German bond markets, only the ones targeting Italian debt had net inflows this month, Rafi Aviav, head of product development, said in an interview.
Betting on the bonds to drop has generally been a losing trade since 2011, but that's changed this year, as the country's proposed budget deficit of 2.4 percent of its economic output generated a sell-off in the debt market and drew criticism from the EU.
BTP futures have lost almost 3 percent this month alone as Prime Minister Giuseppe Conte insists his government has no "Plan B" for its budget, while the EU demands changes to bring the country into line with spending rules. That's powered the Boost product to a 13 percent gain in October.