Italy, Portugal Bond Sales Flooded With Orders by Yield Chasers
(Bloomberg) -- Bond sales by two of Europe's most indebted nations have been inundated by demand as an economic recovery begins to lift yields from historically low levels.
Italy received more than 64 billion euros ($76 billion) of bids for its first new 50-year bond in almost five years via banks on Wednesday, according to a person familiar with the matter. That's more than three times the previous record. The nation is also selling debt maturing in 2028.
Meanwhile, Portugal is bringing to market a 10-year security, racking up more than 30 billion euros of orders from investors. The orderbook is sizable for Portugal, but still stands more than 10 billion euros short of its all-time record after being scaled back slightly over the course of the day.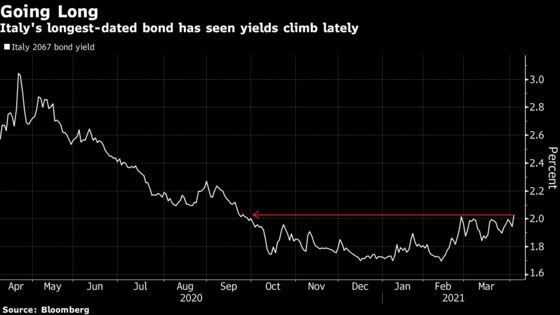 The sales come as investor appetite for government debt shows signs of waning, with some pricing an end to the pandemic as vaccine rollouts gather steam across the continent. On Tuesday, the region's benchmark stock index rose to a record, a sign that traders are rotating out of sovereign bonds and into riskier assets.
Yet demand for peripheral euro-area debt may be strong regardless, given that the European Central Bank has committed to accelerate its bond purchases this month to prevent an unwarranted tightening in financial conditions.
"The ECB scales up quantitative easing in Q2 and what do the issuers do? Start printing like madmen," said Jens Peter Sorensen, chief analyst at Danske Bank A/S.
For Portugal, the bond sale is also symbolic, coming nearly a decade after it first asked the International Monetary Fund for a bailout package. Its 10-year yield is now at just 0.22%, compared with over 18% at the height of the sovereign debt crisis.
Italy's final spread for its 50-year sale was 47 basis points over existing bonds and nine basis points over similar-dated bonds for its 2028 maturity. Portugal's 10-year sale was given a final spread of 28 basis points over midswaps, trimming one basis point from what was initially offered.
Speculation is growing that Italy could even issue 100-year debt to help finance the recovery from the coronavirus. Its longest-dated bond is a 50-year security issued in 2016, which currently yields around 2%. That's the highest level since September, but still low by historical standards.
Demand for today's sales will be benchmarked against records seen last year. Ten-year Italian debt drew around 108 billion euros of orders in June in addition to Portugal's set in July.
There are 10 deals in European primary markets on Wednesday, including German development bank KfW, which is offering a euro-denominated-benchmark green bond with an 8-year maturity.
Australia's Macquarie Bank resumed the sale of a sterling-denominated benchmark bond. The lender had requested to pause the transactions "for reasons unrelated to the matter" after the Australian Prudential Regulation Authority increased the bank's liquidity and operational risk capital requirements in response to multiple material breaches of APRA's prudential and reporting standards
Qatar's former prime minister Sheikh Hamad bin Jassim Al Thani is one of the wealthy Middle Eastern investors exposed to Credit Suisse Group AG's troubled supply-chain finance funds
Amundi agreed to buy Societe Generale's fund management arm Lyxor for 825 million euros
India's central bank pledged to buy up to 1 trillion rupees ($14 billion) of bonds this quarter, starting from April 15, to keep borrowing costs low and support the economy's recovery.
A selloff of China Huarong Asset Management's dollar bonds caused by delayed 2020 results is beginning to pressure debt sold by the nation's other top asset management companies
Taiwan's life insurers, flush with $56 billion in cash as U.S. Treasury yields rise, are planning to increase their exposure to overseas corporate bonds, especially from the U.S.
Greensill Bank's German insolvency administrator won a request to freeze the collapsed lender's Australian assets
New York Governor late Tuesday signed into law a measure that will help prevent hundreds of billions of dollars of financial contracts from descending into chaos when the Libor offered rate starts phasing out at the end of the year.
U.S. bankruptcy courts saw a greater-than-average number of filings in the first quarter, though a year-on-year decline highlights the impact of cheap cash flowing to troubled borrowers
Wayne LaPierre, the top executive of the National Rifle Association, has been accused of putting the gun rights group into bankruptcy to avoid facing a financial investigation by New York's Attorney General
Futures trader burned Tyson Food with $200 million loss on fake cattle