Italian Yields Would Need to Rise Much Further to Trouble Banks
(Bloomberg) -- With many investors' eyes on the Italian market and government bond yields, the question remains how far can yields rise before the nation's lenders get into trouble? The answer: quite far.
Fidentiis Equities analyst Fabrizio Bernardi estimates that the yield spread between German 10-year Bunds and Italian BTPs can gain as much as 300 basis points from the level at the end of June before the possibility arises of the first lenders facing serious trouble. So far the spread has only increased 68 basis points.
"Our analysis is a simple simulation to identify the level for each bank, where the increase in rates may affect capital ratios, given each bank's spread sensitivity," Bernardi says by phone.
The analyst examined lenders' capital buffers, the difference between the ratio under the European Central Bank's supervisory review and evaluation process and the CET1 ratio phased in, and calculates how much the spread would have to rise before this buffer is gone. The amount varies a lot from bank to bank.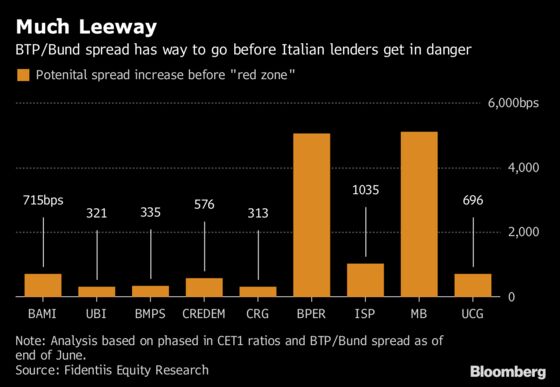 According to his findings Banca Carige SpA and Unione di Banche Italiane SpA are the most exposed, with the capital buffer wiped out if the spread rises by 313 or 321 basis points respectively. Other lenders like BPER Banca SpA could even withstand an increase of more than 5,000 basis points.
Credit Suisse Group AG research points in a similar direction, warning that a spread above 400 basis points would not be sustainable for Italian banks. A 200-basis-point broadening from the end of June would reduce the capital ratio of Italian lenders' by 66 basis points on average, according to its estimate. That could trigger the need for capital hikes, the analysts including Carlo Tommaselli said.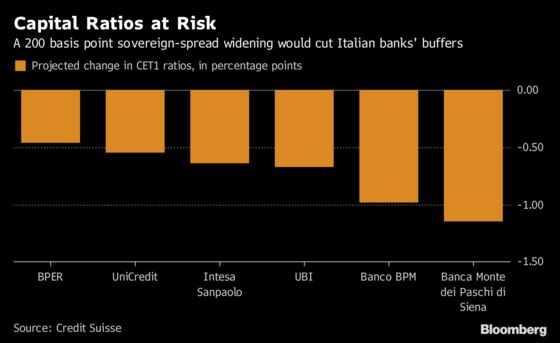 For the time being, it's likely that the market will be alert to every basis point move in Italian yields.
"Our simulation is kind of useless at the moment, as the uncertainty persists, generating this sell-off and affecting the whole Italian stock market," Bernardi said. "Kind of a frustrating situation, as banks clearly have a massive amount of capital."