Italian Stocks Shrug Off Investor Concern, Top European Markets
(Bloomberg) -- The government is feuding, the budget numbers don't add up, questions are swirling around banks. But Italy's stock market is on a roll.
The FTSE MIB benchmark has risen 7.6 percent this year, the best performer among major European markets, helped by gains at oil services company Saipem SpA as well as from recently added member Juventus Football Club SpA. The Swiss Market Index is trailing close behind, up 7.1 percent in the first weeks of 2019.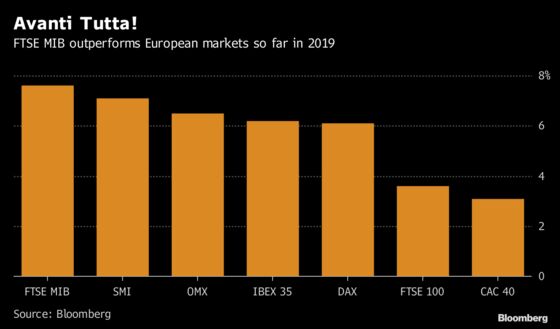 "This feels a little like déjà vu given that Italian markets performed well in the first part of last year, before sliding back in the second part as Italian politics took center stage," said Michael Hewson, chief market analyst at CMC Markets U.K. "The détente between Italian and EU policy makers over the budget has certainly eased some investor nerves, prompting capital to flow back into what are fairly cheap valuations."
Italy's budget issues "are moving to the background," resulting in tighter 10-year bond spreads, said Jan Keuppens, manager of the Robeco Global Stars Equities fund. "What we can see in the start of year is a reversal trade of last year, when the Italian market traded quite poorly due to geopolitical issues and very weak performance of the banking sector."
The Italian market sank last year after a government formed by populist parties scared off investors. The benchmark entered a bear market in October amid a global rout and the country's budget showdown with the European Union, with the coalition pledging to cut taxes and increase spending despite a mountain of debt. While the government is eager to demonstrate a united front, it's a different story behind the scenes as secret overtures to other parties make it difficult to quell rumors of divisions.
Renewed concerns about capital and profitability at Banca Monte dei Paschi di Siena SpA and balance sheet worries at Banca Carige SpA, which was put under administration by the European Central Bank, have added to the perception that problems at Italian banks are far from being fixed. Smaller lenders BPER Banca SpA, UBI Banca SpA and Banco BPM SpA are the worst performers on Italy's benchmark this year.
"There still remains a significant amount of political risk around Italian assets especially given the fragility of the Italian banking sector," Hewson added.
The FTSE MIB currently trades at 9.6 times forward 12-month earnings. The index's PE ratio fell as low as 8.7 in late December, the lowest since 2012.