Italian Bonds Surge as Investors Eye Success in Coalition Talks
(Bloomberg) -- Italian assets surged in a day of fluctuating political fortunes as the nation's leaders drew closer to forming a new coalition government.
Yields on 10-year bonds slid to their lowest level since 2016 and stocks in Rome led regional gains. The Democratic Party appeared ready to accept the Five Star Movement's preference for Giuseppe Conte to take the role of Prime Minister permanently, removing an earlier obstacle that had threatened to derail the talks.
"We just need to see through the headlines and wait for concrete news," said Peter Chatwell, head of European rates strategy at Mizuho International Plc. "These headlines are to be expected in a negotiation. Both Five Star and the Democrats would stand to lose a significant number of seats if they fail to form a government, so the incentive is in place."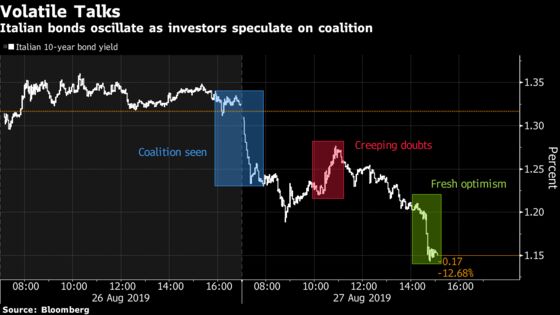 The nation's bonds still offer some of the region's highest yields to compensate investors for the strong degree of political uncertainty and large debt load. Over the past year, Italy's leaders have repeatedly clashed with the European Union over its fiscal deficit, while lingering euroskepticism remains, especially in Deputy Prime Minister's Matteo Salvini's League Party, which would most likely head up a government if new elections take place.
Italian 10-year yields dropped as much as 20 basis points to 1.12%, the lowest level since September 2016. The premium over those on German bonds, a key gauge of political risk, narrowed to a one-month low of 182 basis points, from 199 on Monday. The FTSE MIB index of shares climbed 1.6%.
The rally highlights how a potential pact between Five Star and the Democrats would be one of the most market-friendly scenarios, avoiding the possibility of a government headed by Salvini. Five Star said it is now ready to discuss policies in a joint government.
"In case of a Democratic-Five Star coalition BTPs have chances to recover further as the budget deficit should remain below 3% of GDP and the tone towards Brussels should be less confrontational," wrote Rainer Guntermann and Cem Keltek, strategists at Commerzbank AG. "We see scope for 10-year BTP-Bund spreads to tighten towards 185 basis points."
Issues such as next year's budget remain as potential stumbling blocks toward a coalition, though investors are being pushed toward riskier securities after a global bond rally forced the yields of much of the region below 0%. The European Central Bank is widely expected to cut interest rates and restart quantitative easing at its meeting next month, which could further support Italian bonds.
"The fact that yields are so low in other EGB markets is proving very helpful in containing BTP volatility thus far," said Mizuho's Chatwell.