Italian Bonds Rise as Demand Increases at Two-Year Debt Auction
(Bloomberg) -- Italy's bonds climbed after the Treasury successfully sold two-year debt, with investor demand rising from last month.
The nation's bonds reversed earlier declines, with investors offering to buy 1.78 times the amount of securities on sale, compared with a bid-to-cover ratio of 1.56 at the previous auction.
The Treasury in Rome plans to auction as much as 5 billion euros ($5.7 billion) of debt Friday, including benchmark five-year and 10-year securities. Those sales represent the final government debt supply in the euro area for 2018. The results will provide an indication of the underlying demand for Italian bonds next year, according to Danske Bank A/S.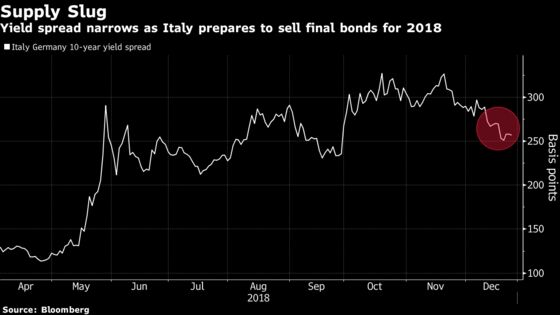 Italian 10-year yields dropped last week to the lowest level since July after the government struck a deal with the European Commission on its 2019 budget, avoiding a disciplinary procedure. The nation's parliament will vote on the budget by Dec. 29, according to La Repubblica, without saying where it got the information.
There should be "decent demand at the auction as Italy has struck a deal on the 2019 budget with the EU," said Jens Peter Sorensen, chief analyst at Danske Bank. "Typically, the auction is a good indicator for the demand for Italian government bonds going into 2019. If there is strong demand at the auction, then Italy tends to perform well in January," he said.
Italian 10-year yields fell three basis points to 2.80 percent as of 12:52 p.m. in London, after climbing to 2.91 percent. The yield spread versus German bunds narrowed one basis point to 257 basis points, after touching 249 on Dec. 20, the tightest since Sept. 28. The FTSE MIB index fell as much as 1.6 percent.
Italy sold 2 billion euros of zero-coupon bonds due November 2020 Thursday. The increased demand came as investors sought the relative safety of fixed-income assets as equity markets across Europe tumbled. The FTSE MIB Index of stocks dropped to the lowest level in more than two years.