Italian Bonds Slide as Nation's Leaders Remain Defiant on Budget
(Bloomberg) -- Italian bonds dropped as the government held firm over its budget plans despite pressure from the European Union, markets and opposition lawmakers.
Yields jumped across the curve, with those on 10-year bonds approaching the multi-year highs reached Tuesday. Deputy Premiers Luigi Di Maio and Matteo Salvini asserted that they will push ahead with plans that will blow Italy's budget deficit out to 2.4 percent next year. Salvini said he was "absolutely sure" the yield spread over Germany won't break 400 basis points, from around 300 currently. Italian stocks declined.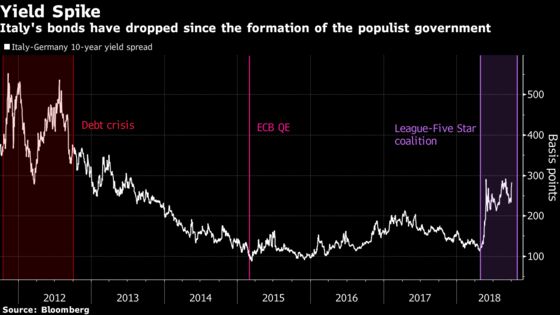 "Outside of continued aggressive confrontation with EU, this is probably a case of a pain trade emerging," said Marc Ostwald, global strategist at ADM Investor Services. "There is a sense that some more speculative types have been buying the dips and yet yields and spreads continue to deteriorate."
Italian 10-year yields climbed 11 basis points to 3.59 percent, having reached 3.71 percent Tuesday, the highest level in more than four years. The spread over those on their German peers widened 11 basis points to 304. Two-year yields rose 14 basis points to 1.52 percent. The FTSEMIB stock index fell as much as 0.8 percent.
European Commission President Jean-Claude Juncker reiterated Tuesday that it was up to the Italian government to find "rules and measures" that will allow it to stay within agreed budgetary targets.
The International Monetary Fund has said that countries with a high debt load should focus on improving their fiscal position, while the nation's budget watchdog has rejected the government's fiscal outline.