Italian Assets Slide on Eleventh-Hour Friction Before Budget
(Bloomberg) -- Italian bonds and stocks fell along with the euro as investor fears over the country's 2019 budget were reawakened by last-minute friction among political leaders.
The nation's benchmark stock index tumbled the most in more than a month following newspaper reports that the Five Star Movement and the League were pushing for extra spending and that budget targets due Thursday could be delayed. Still, demand for Italian debt at an auction of five- and 10-year notes stayed resilient.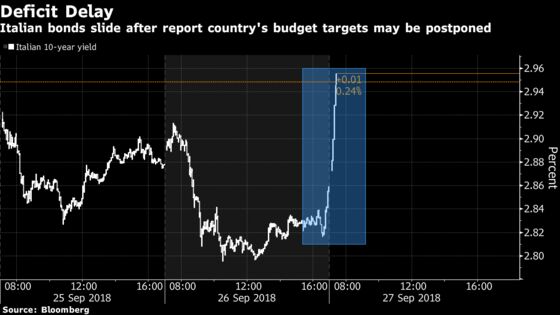 Italian bonds have whipsawed in recent months as the country's fledgling coalition government thrashes out its deficit plans. Fears that it could breach the European Union's limit of three percent of economic output have subsided in recent weeks, but disagreements remain over which proposals will make the cut and the time period to implement them.
The nation's two-year yields were steady at 0.76 percent, having jumped as much as 21 basis points to 0.97 percent. The yield on 10-year bonds increased four basis points to 2.90 percent by 3:56 p.m. in London, widening the spread over equivalent German bunds to 237 basis points. The FTSE MIB stock index dropped as much as 2 percent, the most since Aug. 16, while the euro fell 0.5 percent to $1.1682.
Market reaction elsewhere was relatively measured, suggesting that investors see Italy's problems remaining within its borders. The Swiss franc -- typically seen as a haven -- fell against the euro. Though the cost of protection against corporate defaults for both investment-grade and high-yield debt in the region increased, they were below levels seen last week.
Despite the uncertainty, Italy's Treasury sold 5.25 billion euros ($6.15 billion) of debt -- the full allotted amount -- at auction. Demand for 10-year bonds was the highest since May, though the five-year sale saw a drop in the number of offers for notes available.
The selloff was sparked by a report in the Corriere della Sera newspaper that a cabinet meeting to decide on 2019 budget targets may not take place Thursday as planned "due to new complications". The paper didn't say where it got the information. The Il Sole 24 Ore newspaper reported that Tria threatened to resign.
The Five Star Movement want a citizen's income for the poorest, while their coalition partners the League want a flat tax. Both want to roll back recent pension reforms. The newswire Ansa reported that Prime Minister Giuseppe Conte would meet with League leader Matteo Salvini, Five Star chief Luigi Di Maio and Finance Minister Giovanni Tria at 8 p.m. in Rome. They will also hold a pre-meeting at 4 p.m.
Recent media reports had suggested a budget deficit for 2019 in the region of 1.6 percent to 2.0 percent, but Corriere della Sera reported that the League was said to have joined Five Star in seeking a deficit of 2.4 percent. Il Sole reported that Tria was willing to accept 1.9 percent of GDP as the highest deficit target.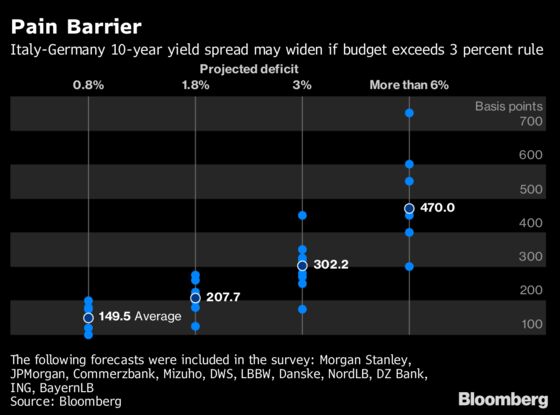 "It underlines that the government cannot get to an agreement and the risk of Tria leaving or being kicked out is growing," said Arne Lohmann Rasmussen, head of fixed-income research at Danske Bank A/S. "The market thought it had learned the lesson. Apparently, Italy has not."