Italian Markets Rocked by Reality of Populist Coalition Proposal
(Bloomberg) -- Italy's bonds and stocks slumped as the Five Star Movement and the League reached a coalition agreement to govern the country, outlining proposals that may pressure public finances.
Benchmark 10-year yields touched the highest level in almost a year, while the local share index slumped to the lowest in a month. The accord between the nation's populist leaders aims at ramping up spending on the poor and slashing taxes in a direct challenge to the European Union. The parties still haven't said who they will nominate as prime minister.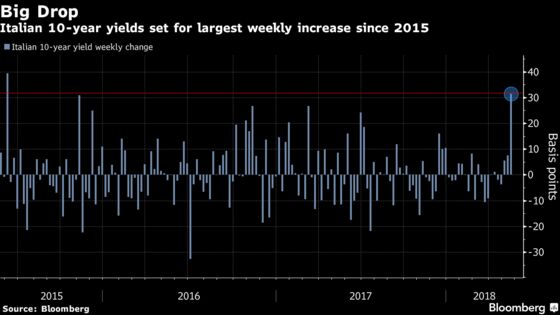 "The coalition implies structurally higher risk premiums given the policy uncertainty," Commerzbank AG strategists Marco Stoeckle and Michael Leister wrote in a note to clients. "This should ensure ongoing volatility."
The 10-year yield climbed as much as 12 basis points on Friday to 2.23 percent, the highest level since July. The rate has risen 35 basis points this week, set for the biggest increase since June 2015. The spread over German bunds touched a four-month high of 163 basis points, and Commerzbank recommends that traders position for it to widen to 190, while Citigroup Inc. expects a level of 165-175.
The FTSE MIB index of shares fell 1.3 percent on Friday, with lenders including Unione di Banche Italiane SpA, Banco BPM SpA, BPER Banca SpA, UniCredit SpA and Intesa Sanpaolo SpA leading declines. Before this week, the benchmark had mostly weathered post-vote political concerns as investors focused on corporate earnings and economic data. The gauge is still up 7.5 percent this year, the best performance among major Western markets.
Five Star leader Luigi Di Maio announced Friday that a final government contract have been agreed with Matteo Salvini, leader of the of the anti-immigrant League.
The proposed program -- published on Di Maio's Facebook page -- includes a review of EU fiscal rules, the rolling back of pension reforms that raised the retirement age, as well 15 percent and 20 percent tax thresholds for companies and people. It may cost as much as 126 billion euros ($148 billion), according to an estimate by former International Monetary Fund official Carlo Cottarelli based on an earlier draft.
The program also says the state may consider "instruments such as mini government notes" to settle bills with creditors and to repay tax arrears. Credit-rating company DBRS said that the fiscal plans of the Five Star and League coalition "may threaten the continued reduction in the debt ratio that supports" the nation's BBB debt rating.
Italian bonds may find support now the yield spread over bunds has reached 160 basis points, given that this week's market reaction to political concerns was "violent," according to Ioannis Sokos, a strategist at Nomura International Plc.
"Many investors will be tempted at 160 basis points as it's near the highest level we've seen in 2018 so far," he said in emailed comments. The bank closed its long position in Spanish bonds versus Italian securities Wednesday. "Large intraday moves tend to leave scars behind, and this is in a period where foreign investors were getting more optimistic on peripheral debt."
Societe Generale SA says traders going long on Italian debt amid the current political risks are "themselves in the wolf's mouth," and favors short-duration strategies instead. Alessio de Longis, a money manager at OppenheimerFunds Inc., sees Italian yields "grinding higher," with the spread over Germany settling somewhere between 150 and 170 basis points.
James Athey, a money manager at Aberdeen Standard Investments, said earlier this week that the spread could potentially climb to 200 basis points by the end of the year.