Italian Assets Take a Beating After Populists Win Budget Battle
(Bloomberg) -- Italian assets tumbled after the government set next year's budget deficit target wider than the market envisaged, with the moves starting to ripple through to global markets.
Stocks fell the most in two years, with trading in banks stocks being temporarily halted, after Deputy Premiers Matteo Salvini and Luigi Di Maio announced a 2.4 percent projection in a joint statement late on Thursday. Benchmark 10-year yields climbed the most since May, with the slide sparking a flight of capital into haven assets such as German bunds and the Swiss franc.
Volumes in Italian bond futures surged, running at nearly three times the 10-day average, but trading in cash bonds dried up. Adding to the burden of problems for Italian bonds was the start of European Central Bank halving its monthly asset purchases to 15 billion euros ($17.4 billion). The ferocious selling sparked memories of May, when liquidity in euro-area bond markets dried up as dealers refused to offer quotes for parts of the Spanish bond market and most of Italy.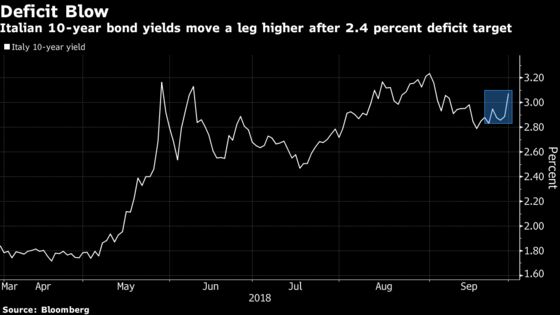 Italian bonds have whipsawed this week amid reports of division in the cabinet and contrasting views on appropriate deficit levels. Markets had been anticipating a deficit target of around 1.9 percent of gross domestic product before it emerged there were last-minute disputes among leaders, with the League and Five Star Movement favoring 2.4 percent. That has put them at odds with Finance Minister Giovanni Tria.
The yield on the nation's two-year bonds climbed as much as 46 basis points to 1.24 percent. The 10-year yield surged as much as 37 basis points -- the most since the government was formed -- to 3.26 percent. The latter touched 3.44 percent on May 29, the highest since March 2014. The yield spread over similar-maturity German debt widened by 42 basis points to 278 basis points.
"We see potential for Italy's spread over Germany to reach 300 basis points, albeit being capped there due to Tria remaining on board," said Peter Chatwell, head of European rates strategy at Mizuho International Plc. "There is little positive to say about the budget."
The FTSEMIB Index of shares declined 4 percent at one point, the most since June 2016. Banking stocks featured among the most hit on Friday, with Banco BPM down 8.5 percent, UniCredit SpA down 6.9 percent and Intesa Sanpaolo down 6.8 percent. Trading in those banks reopened, having been halted.
Additional Tier 1 notes issued by two of Italy's biggest banks fell the most since June 8. UniCredit's 1 billion euros of 6.75 percent bonds dropped about 1.3 cents on the euro to about 100 cents. Intesa Sanpaolo SpA's 750 million-euro 6.25 percent note also retreated 1.7 cents to below par. AT1s are the riskiest form of bank debt.
The European Union stipulates that the deficit levels of member nations should not exceed 3 percent of growth. Italy's government has to present a draft to the Commission by mid-October for approval, with some EU officials already signaling their discontent with the proposed extra spending.
Bond investors will also be focusing on how credit rating agencies respond. S&P Global Ratings is due to review Italy on Oct. 26, while Moody's Investors Service has the country on a negative outlook and is expected to make a decision in the next month. Both have the nation two notches above sub-investment grade.
"Moody's is as good as certain to downgrade Italy," wrote Ciaran O'Hagan, head of European rates strategy at Societe Generale SA, who recommends staying short BTPs and buying two-year German asset swap spreads. The parliamentary debates over the budget and the EU's reaction "will maintain the suspense for investors."