Italian Assets Climb After Moody's Review Damps Budget Tensions
(Bloomberg) -- Italian bonds rallied after the nation said it will ensure its deficit does not break a 2.4 percent target next year and Moody's Investors Service kept it at investment grade.
Yields on 10-year securities fell to their lowest level in over two weeks following Moody's Friday's cut to Baa3 -- its lowest investment-grade rating -- with a "stable" outlook enough to tempt back investors. Bonds briefly erased gains before climbing again after Finance Minister Giovanni Tria sought to soothe tensions in a response to budget criticism from the European Union.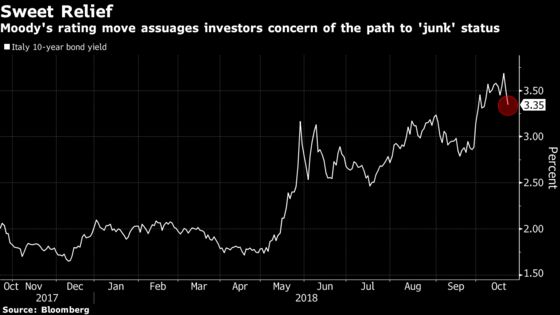 Italy's financial markets have been under pressure since the coalition government pushed for a higher-than-expected deficit in its budget, damaging investor confidence in its ability to reduce its 2.3 trillion-euro ($2.7 trillion) debt load. There had been fear in the market that Moody's would apply a "negative" outlook on its downgrade or even cut the country to junk.
"One important event risk has now been taken away, with the risk that Italy was on its way to become non-investment grade now relatively small," said Arne Lohmann Rasmussen, head of fixed-income research at Danske Bank A/S. "The more positive general risk appetite should support BTPs."
Italy's 10-year bond yield dropped as much as 18 basis points to 3.30 percent, the lowest level since Oct. 4, before paring the decline to five basis points as of 12:20 p.m. London time. The spread over those on equivalent German bonds narrowed to 297 basis points. The euro reversed early gains to slip to $1.1496.
The FTSE MIB index of shares gained 0.6 percent, with banks among the biggest beneficiaries. The credit default swaps of Italian lenders fell in price as investors reacted positively to the Moody's decision, while the 2042 bonds of Assicurazioni Generali SpA -- the largest insurance holder of Italian government debt -- saw its second-biggest daily price rise of the year.
Italy is next due to be reviewed on Friday by S&P Global Ratings, who have the nation two notches above junk. With the prospect of a junk rating put on hold for now, the main risks for Italian bonds depend on the ongoing budget negotiations between the EU and the country's populist leaders.
In a letter to the European Commission published Monday, Tria said that he was aware that his spending plans don't comply with EU rules and called for dialogue with Brussels to address their differences. The EU is still to give its formal assessment on the budget.
Prime Minister Giuseppe Conte also signaled there was room for compromise, stating that the 2.4 percent deficit target outlined last month was the upper limit and the government will not exceed it "for sure."
The EU had pushed back against the proposed deficit last week, but Commissioner for Economic Affairs Pierre Moscovici struck a more conciliatory tone Friday, saying the bloc wouldn't interfere with Italy's economic policies.
"The Commission then needs to decide whether it will show a yellow card or reject the budget by next Monday," wrote Commerzbank strategists including Michael Leister in a note to clients, who recommend a long position in Italian bonds, with a spread target of 270 basis points over Germany. "The remarkable u-turn in the Italy news flow since Friday afternoon should set the tone for now."