Italian Markets Convulse After Budget Standoff With EU Deepens
(Bloomberg) -- A slump in Italian assets deepened after a tug-of-war between the government and the European Union over its budget intensified.
Yields on benchmark 10-year bonds rose above 3.5 percent for the first time in four years while stocks approached a bear market after the European Commission said the populist coalition's plans for a wider deficit are in breach of common rules. German bonds and the yen rallied as investors sought the safest assets.
In a letter to Italian Finance Minister Giovanni Tria, EU Commissioners Valdis Dombrovskis and Pierre Moscovici pointed to a "significant deviation" of budget targets from the fiscal path in a reference to the planned 2.4 percent budget-deficit target. Deputy Prime Minister Luigi Di Maio shrugged off the criticism, saying his anti-austerity view will grow stronger across the continent.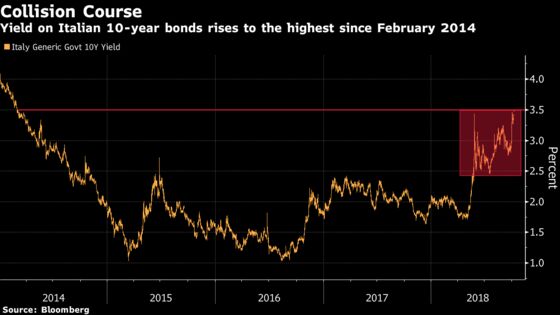 Italian bonds have been pummeled since the budget deficit was announced Sept. 27, with full proposals due to be handed over to the European Commission for review on Oct. 15. Investors are now considering the potential for ratings downgrades, with S&P Global Ratings and Moody's Investors Service due to review the sovereign before the end of the month.
"The Italians are continuing to test the EU's resolve," said Jens Peter Sorensen, chief analyst at Danske Bank A/S. "If neither the EU or Italy back down, yields will continue to climb higher from here. But I expect that Italy and the EU will find a compromise, even though it looks difficult at the moment."
The yield on 10-year bonds climbed 16 basis points to 3.59 percent as of 12:02 p.m. in London, after touching 3.63 percent, the highest since February 2014. The spread over those on German bonds climbed 20 basis points to 306 basis points. Two-year yields jumped 20 basis points to 1.55 percent.
There were signs that the selloff may not be done yet. Open interest in Italian 10-year bond futures -- a measure of outstanding positions -- has risen along with yields, the latest data from Oct. 4 show. That suggests investors are positioning to sell the sovereign's debt, as open interest is recorded from the aggressor side of trade.
Local stocks fell for a third day, with the FTSE-MIB Index of shares sliding as much as 2.5 percent to the lowest level since April 2017. A further drop of 1.2 percent would put the index in a bear market.
Banks were the most hit again, with Banco BPM SpA declining 5.6 percent and trading in UniCredit SpA temporarily halted after falling 5 percent. The euro dropped 0.5 percent to $1.1467, while the haven yen climbed 0.3 percent to 113.35 per dollar.
In a fresh salvo fired Monday, Italian Deputy Prime Minister Matteo Salvini said Europe's real enemy is Jean-Claude Juncker and the Brussels bureaucracy that pushes budget restrictions and open borders.
"We are against the enemies of Europe -- Juncker and Moscovici -- shut away in the Brussels bunker," Salvini said. "The politics of austerity of the last few years have increased Italian debt and impoverished Italy."
While political uncertainty remains high, Italian bonds offer very attractive yields for foreign investors, especially when exchange rates are taken into account, according to Morgan Stanley.
"If you're an investor in dollars or another currency, the hedged yield on Italian assets is very high," head of cross-asset strategy Andrew Sheets told Bloomberg TV. "You still have some uncertain and outstanding issues with what the rating agencies will do, but for the moment I think that uncertainty is being balanced by the fact yields have repriced a pretty significant amount."