Italian Assets Slide After EU Ramps Up Pressure on Government
(Bloomberg) -- Italian bonds and stocks dropped for a third day after the European Union ramped up criticism of the populist government's budget draft.
The nation's 10-year yield spread over Germany, a key barometer for investor risk, touched the highest in more than five years following a letter from the European Commission to Rome that said its spending plans were excessive. The body still needs to give its official verdict on the budget, while S&P Global Ratings and Moody's Investors Service could choose to cut the nation's credit ranking before the end of the month.
There were also further signs of disunity among Italy's Five Star Movement-League coalition over a tax amnesty.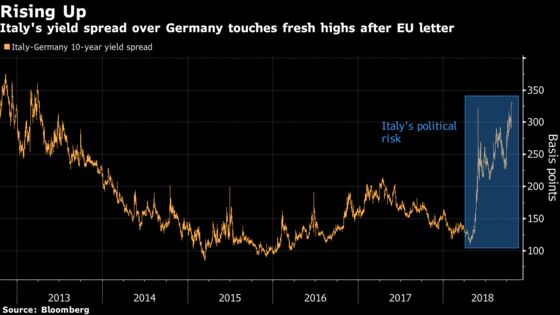 "The key near-term worry on Italy has become the risk that the 2019 budget will be rejected by the European Commission," Ciaran O'Hagan, a strategist at Societe Generale SA, wrote in a note to clients. "We think Moody's will announce a Baa3 rating for Italy, the outlook stable, opening the way for a recovery in BTPs. But we still want to wait and see first."
Italy's 10-year yield rose three basis points to 3.71 percent, with the spread over similar-maturity German peers at 329 basis points, the highest level since April 2013. The FTSE MIB Index declined 0.6 percent after touching the lowest level since February 2017. Equities were led lower by lenders, with shares of UniCredit SpA falling to the lowest level since December 2016.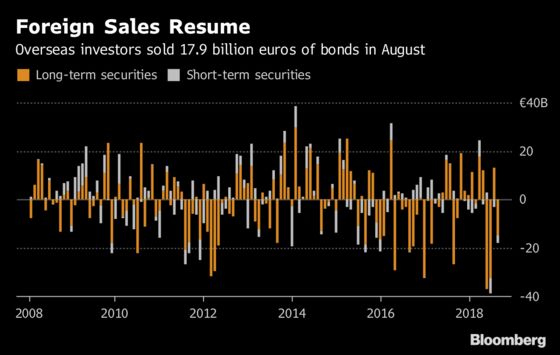 The rising costs of insuring Italian banks against default has helped drive CDS index tracking European senior financial debt to highest premium versus overall investment grade market. Fitch Ratings said the rating on the nation's lenders is under pressure from sovereign-related risks.
Yields on Spain's 10-year notes climbed as much as nine basis points to 1.82 percent, the highest level since March 2017. The Spanish government is expecting to receive a letter from the European Commission seeking clarity on some aspects of its budget, but is confident that the plan be cleared, according to a budget minister official.
Benchmark yields in Portugal rose by three basis points to 2.07 percent. The yield on 10-year German bunds -- considered a haven -- was little changed at 0.42 percent.
Meanwhile, data issued Friday showed that foreign investors resumed selling of Italian debt in August. They were net sellers of 17.9 billion euros ($20.5 billion) worth of government and corporate bonds as well as bills after being net buyers to the tune of 9.98 billion euros a month earlier, according to the European Central Bank. Their sales touched a record 38.3 billion euros in June.