Italian Bonds Lure Buyer in Shape of $1.6 Billion Hedge Fund
(Bloomberg) -- Italy's sovereign bonds, the worst performers in the euro region this year, have found one ally as investors come to terms with the country's first populist government.
A hedge fund which oversees about 1.4 billion euros ($1.6 billion) is betting that Italian securities will fare better than their German peers as concerns over the existence of the shared currency are overdone.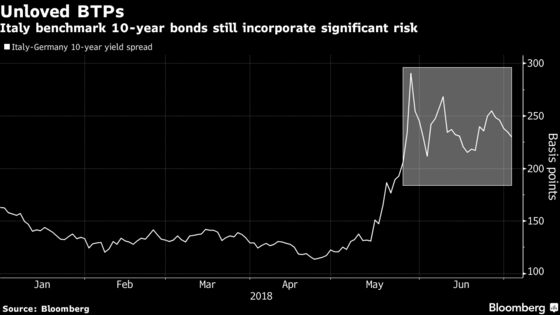 "The Italian government had been perceived as aggressive on some themes but it's become clear that it is very focused on the issue of immigration and it has turned out to be more pragmatic than investors expected," said London-based Filippo Lanza, who manages two bond funds for Italy's Hedge Invest Sgr. "The market was betting on an implosion of the European Union, which we see as highly unlikely."
Lanza first entered a long position on peripheral euro bonds for the HI Numen Credit fund he manages on May 29, the day that Italy's 10-year yields climbed to a four-year high. He re-opened long positions on Italian and Greek bonds in the past two weeks, betting the yield premium for holding their securities against German bunds will narrow.
The HI Numen Credit fund gained 0.7 percent in June and 5.3 percent this year. In contrast, Italian debt has handed investors a 2.6 percent loss this year, Bank of America Merrill Lynch indexes show.
Italian bonds have tumbled since the formation of the country's first populist government reignited concerns about the nation's euro stance and its debt sustainability, weighing on peripheral debt. The yield spread between Italian 10-year bonds and German bunds was around 230 basis points Tuesday, after climbing to 290 basis points at the end of May, the widest in five years. The gauge hovered below 150 basis points this year before mid-May.
JPMorgan Chase & Co. strategist Marco Protopapa said in a note that financial realism will gradually take hold, calling the spending promises in the populist coalition contract "a barking dog that may not bite."
Investors also risk missing out on high-yielding debt, Peter Chatwell, head of rates strategy at Mizuho International Plc, said in a note, which could lead some to reduce their underweight position in Italian bonds.
The medium-to-long sector of the Italian yield curve offers higher opportunities, according to Lanza, while German bunds look too expensive. "We have a very negative view on German bunds, on which we're structurally short. We currently see it as one of the most dangerous investments out there."
Lanza also favors Greek government bonds, which felt some contagion from the Italian turmoil in May, and also opened a long position in the second part of June. The yield gap between Greek 10-year yields and German bunds was around 360 basis points Tuesday, a little more than a week after Greece exited its bailout program. The spread closed at 448 basis points on May 29, the widest since December.