Italian Assets Surge as Coalition Passes Key Test From Five Star
(Bloomberg) -- Italian bonds climbed for a third day after Prime Minister-designate Giuseppe Conte won backing to form a new government, tempering political uncertainty and reassuring financial markets.
Ten-year yields dropped to fresh record lows after Five Star Movement members approved a coalition with the Democratic Party, averting the possibility of fresh elections and paving the way for a less hostile stance toward the European Union. The spread over yields on German bonds, a key gauge of risk in the nation, fell to 150 basis points, the lowest level since May 2018. Stocks rallied.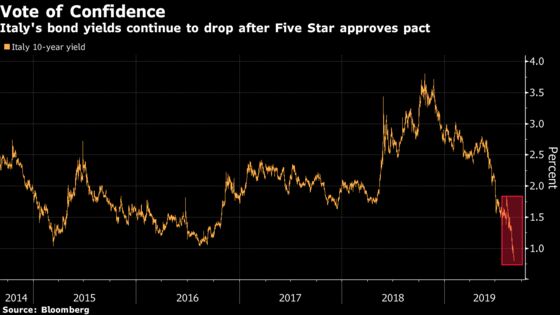 "Italy should keep performing," Peter Chatwell and Peter McCallum, strategists at Mizuho International Plc, wrote in a note to clients. "We are expecting BTPs to chase down to 130 basis points in the 10-year spread against Germany with the formation of the coalition government."
Italy's bond market is playing catch-up with a rally that has pushed the yields on much of Europe's sovereign debt below 0%, as the omission of right-wing politician Matteo Salvini from government helped to remove political risk. A new administration could be sworn in later this week, with a first confidence vote in the lower house by the weekend and then in the Senate early next week.
Ten-year yields fell as much as eight basis points to 0.81%. Those on two-year bonds plunged 10 basis points to -0.38%.
The FTSE MIB Index advanced 1.6% on Wednesday, the most among major European benchmarks, led by banking and luxury shares. UniCredit SpA and Intesa Sanpaolo SpA paced the gains among financial stocks on the prospects of a Conte-led government.