Italian Assets Advance After Coalition Submits Budget Plan to EU
(Bloomberg) -- Italian assets rallied after the government reached an agreement on the budget accord to be submitted to the European Union, easing some of the political tension that had built up over the past few months.
Two-year notes led gains across the curve -- with trading volumes in futures running just above 50 percent of the 10-day average -- while stocks rose for a second day. Italy's draft budget stated that economic growth will rebound to 1.5 percent next year from an 1.2 percent this year, while the deficit in 2019 was confirmed at 2.4 percent. The EU commission has a week to make an initial assessment.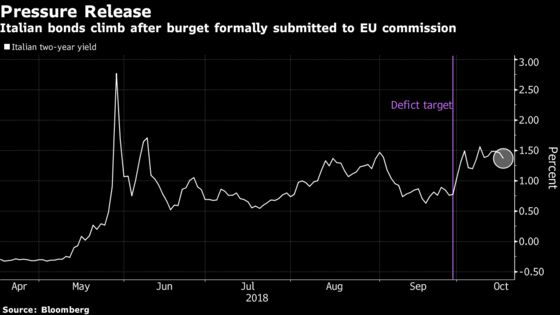 Yields surged to a four-year high after the government's deficit target released last month escalated tensions with the European Union, which stipulates that euro-area governments should work toward reducing their debt load. Many roadblocks still lie ahead for the securities, with ratings reviews from S&P Global Ratings and Moody's Investors Service also due later this month.
"It was quite a strong open now that phase one of the Italian budget saga has ended, and a new one starts," said Antoine Bouvet, interest rates strategist at Mizuho International Plc. "This coalition is showing a greater ability to work together and to move policy forward than anticipated. But that is not necessarily good news for BTPs in the longer run."
Two-year bond yields dropped 11 basis points to 1.35 percent, the lowest in nearly a week. The yield on 10-year bonds fell six basis points to 3.49 percent, narrowing the spread over German bunds by as much to 298 basis points.
The FTSE-MIB Index of shares, which entered a bear market last week, climbed 1.2 percent, the best performance among major European markets. Enel SpA, Fiat Chrysler Automobiles NV and Intesa Sanpaolo SpA were among the biggest gainers.
"The Italian government are no doubt hoping that the EU Commission will blink when it comes to a possible confrontation and hope the markets do its job for them," Michael Hewson, chief market analyst at CMC Markets U.K., wrote in a note. "The EU will need to tread carefully given that the budget appears to be popular, and won't want to be seen to be heavy handed, thus risking a backlash from its third largest economy."