It Took 13 Years for the Crisis to End in U.S. Financial Stocks
(Bloomberg) -- One of the last vestiges of the financial crisis crumbled Thursday as financial stocks in the S&P 500 briefly surpassed their previous closing high, eclipsing the record they touched in February 2007 before losing more than 80% of their value in less than two years.
Banks, brokerages and insurance companies tracked by the S&P 500 Financials Index needed almost 13 years to make the round trip, which required a sixfold increase starting on March 6, 2009. They're the last industry in the S&P 500 to erase their 2008-era decline.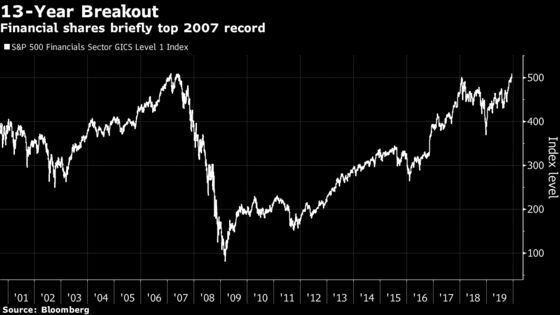 "What a long, strange trip it's been," said Kim Forrest, chief investment officer at Bokeh Capital Management in Pittsburgh. "The existing banks -- because there's a whole lot less banks than there were in 2007 -- have survived and changed in meaningful ways, that's what this reflects. They've shoehorned themselves into this new low interest-rate environment."
As bad as the financial crisis was for the stock market at large, it was worse for bank shares, whose peak-to-trough decline was 1 1/2 times as large as the full S&P 500. On the way back up, profits have been crimped by regulatory efforts to rein in risk taking, falling interest rates, which narrow the profit margin of loans, and trends like passive investing and automation which have supplanted some of Wall Street's traditional roles.
Along the way, the influence of banks in the market has dwindled. As things stand now, the industry represents 13% of the S&P 500, down from a peak of 22% in 2006.
The final leg came Thursday as equities got a boost from optimism the Trump administration will strike a trade deal with China. Lenders in particular got a lift, as the risk-on mood sent bonds tumbling the most in five weeks. That pushed 10-year interest rates higher.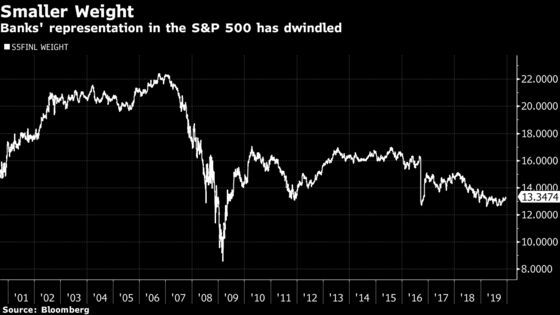 There are signs that the industry's advance is gathering pace. Up 29% this year, financial shares have exceeded all other groups in the S&P 500 except for technology. Years of cost cutting have paid off. Earnings are expected to rise 3.4% in 2019, more than double the pace for all S&P 500 firms, data compiled by Bloomberg Intelligence showed.
"It's been a very cautious and somewhat perilous climb back," said Max Gokhman, the head of asset allocation for Pacific Life Fund Advisors. "Financials have had to deal with significantly higher regulatory scrutiny, less available revenue streams, virtually nonexistent net interest margins, and ever-higher fee pressures. Still, they've found ways to eke out profit."