It's the Worst Start to the Year for Carry Traders Since 2015
(Bloomberg) -- Add carry trades to the growing list of investing strategies hit by the coronavirus panic.
Deutsche Bank AG's G10 FX Carry Basket Index is on course for a near 3% loss in January, the worst start to a year since 2015. The gauge posted its steepest decline in almost 12 months on Monday as the global advance of the deadly Chinese virus spurred a fierce dash for havens.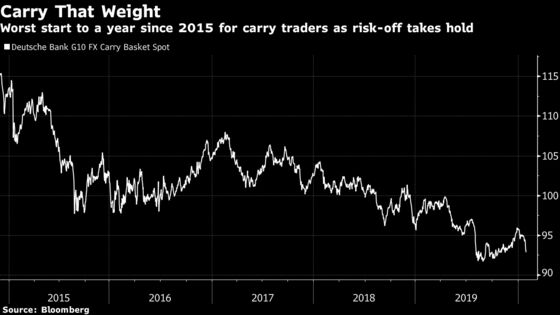 Meanwhile, a Bloomberg currency index that measures returns from eight emerging markets, funded by short positions in the greenback, has fallen 1.6% in January, heading for the worst month since August.
Even before the outbreak, life had been getting harder for global traders who borrow in lower-yielding currencies to fund purchases of higher-yielding counterparts. Central-bank rate cuts have narrowed that gap, or carry.
"There is some talk of carry trades in euro -- this makes little sense when others offer far more negative rates and when there are few opportunities for higher rates such as Turkish lira and Russian rubles," Sebastien Galy, senior macro strategist at Nordea, wrote in a note.
Still, FX volatility remains close to historic lows while market players are sniffing out buying opportunities amid efforts to contain the respiratory disease.
"I think the sell-off can provide some opportunities to get back in at better levels," Jeremy Stretch, head of foreign-exchange strategy at CIBC, said in an interview with Bloomberg TV Monday. "In terms of some of the Asian EMs, like Korea and Taiwan, if we do see sell-offs again there are opportunities to pick those up at slightly cheaper levels."