It's the One Metal Near a Record, But Palladium Is Unloved
(Bloomberg) -- Palladium is the only major commodity that's within reach of an all-time high, but investors are barely buying.
The metal has climbed to within about 6 percent of January's record, even as holdings in exchange-traded products slumped to a nine-year low. While hedge funds have become more positive in recent weeks, their bullish bets are just a fraction of what they were at the start of the year.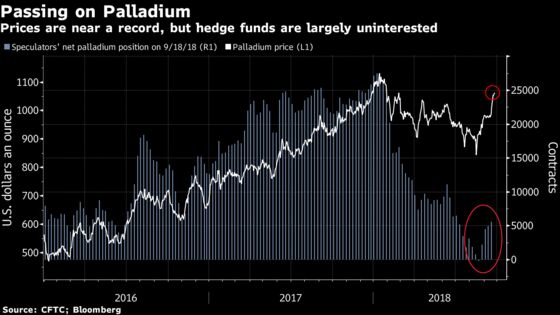 Prices are rallying sharply, likely because of a squeeze in the market and tight supply and demand for the metal, which is mostly used in autocatalysts, according to Philip Klapwijk, managing director of Hong Kong-based consultant Precious Metals Insights Ltd. Palladium traded at $1,074.62 an ounce in London on Thursday, not far from January's peak of $1,139.68.
The market has been in deficit for most of this decade, and Klapwijk expects that to continue. "This may also have encouraged some precautionary buying from users and of course some speculative interest from the long side," he said.
That's helped palladium in recent weeks to outperform other precious metals, which have been pressured by the dollar's strength and expectations for higher U.S. interest rates. More broadly, industrial commodities have started to shrug off global trade tensions amid optimism that demand will remain robust.
"Palladium has broken from the pack," said Maxwell Gold, a director of investment strategy at Aberdeen Standard Investments, who sees further price gains in the medium term. "Given that its inherent source of demand is from the auto sector, palladium is highly sensitive to industrial metals, so its recovery has tracked the rebound we've seen there."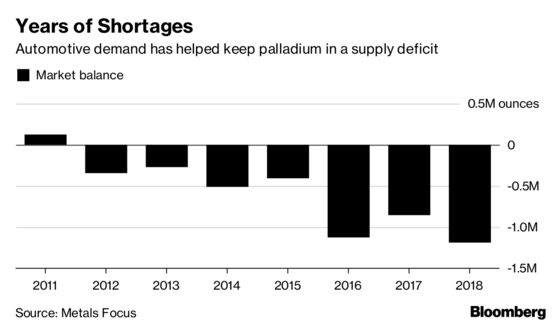 Palladium lease rates, which can indicate tightness in the physical market, remain elevated, Standard Chartered Plc analyst Suki Cooper said. If the market is genuinely tight, then that raises the prospect of automakers substituting in more platinum, which is near the cheapest to palladium in 17 years, said Carsten Menke, a strategist at Bank Julius Baer & Co. in Zurich.
Read more: How cheap platinum prices may lure auto industry to use more
For now, hedge funds don't appear overly optimistic. They were betting on declines just five weeks ago and their net-bullish position is 80 percent below a January peak, U.S. government data show.
One of the most striking disconnects can be seen in ETF holdings, which have moved almost opposite to prices in recent years. Since August 2014, investors have cut holdings by 71 percent, selling $2.3 billion of metal at today's price, data compiled by Bloomberg show.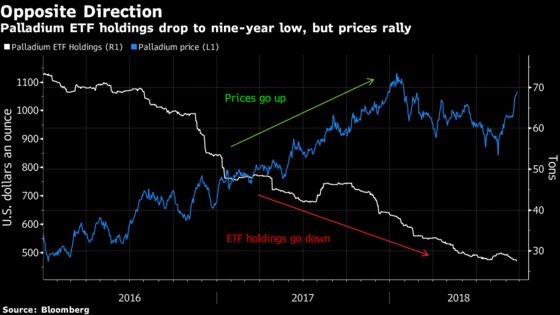 Still, those sales have helped meet demand in a market suffering from shortages, according to Philip Newman, a director at London-based researcher Metals Focus Ltd. And with much of those holdings now depleted, that'll reduce a source of supply going forward.
"Palladium has a unique relationship with the ETFs," Aberdeen's Gold said. "The selling off of supply stored within the funds has been a necessary response to the bullish outlook with the ongoing deficit."