It's Politics Zapping Stocks, a Big Democratic Hedge Fund Guy Says
(Bloomberg) -- Who knows what's moving markets? Marc Lasry says he knows. It's politics, and concern the Democrats will triumph in next week's midterms.
"If Democrats get control, I think you're just going to have a lot more volatility. The reason you'll have more volatility is that you're going to have more headlines," the Avenue Capital founder said in an interview with Erik Schatzker on Bloomberg Television. "Political risk is getting priced in."
About $2 trillion has been priced out of American shares this month, making it the worst October since the financial crisis. Unless the S&P 500 rises today, it will have gone six weeks without stringing together back-to-back gains.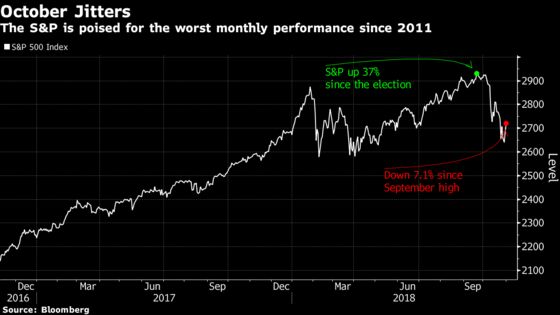 It's always risky to say someone knows what's moving stocks. Saying someone knows it's politics is especially dicey -- the rationales have a habit of tracking their political leanings. Yesterday, President Donald Trump said the bull market is pausing as investors await election results. "If you want your Stocks to go down, I strongly suggest voting Democrat," he tweeted.
Lasry may be different. There's evidence his sympathies are with the Democrats. He's a major donor to the party and was almost appointed ambassador to France by Barack Obama. In his view, markets are getting turbulent out of concern the opposition party will be emboldened to make trouble for Trump.
"Whenever there have been issues with the administration, a Republican-controlled Congress has made those issues go away, so the biggest ones would be just be the investigations of the president," Lasry said. "So if you have a Democratic-controlled House, you now start having those investigations. And the market doesn't want to deal with that. What the market wants, you want to know what's happening, certainty."
For the most part, political concerns have been omitted from the list of explanations on why stocks have sold off. That's largely because little has changed in the base case for next week's election, in which oddsmakers say the Democrats will win the House but not the Senate. Instead, rate hikes by the Federal Reserve, signs economic growth and earnings have peaked, and anxiety about the U.S.-China trade war get most of the blame.