It's Not 'La Dolce Vita' With Return of Volatility: Taking Stock
(Bloomberg) -- (Bloomberg News has renamed the European Equity Pre-Market column Taking Stock. It will appear every trading day at the same time as the previous column.)
Euro Stoxx 50 futures are little changed, after a volatile U.S. session that saw the VIX jump as high as 18.38, a level not reached since June 28. The Nasdaq experienced heavy losses for a third straight session while the Dow gained moderately.
Italy would not stop grabbing the headlines and yesterday's additional rout on Italian equities has put the FTSE MIB near bear territory. The country's three biggest lenders, Intesa Sanpaolo, UniCredit and Banco BPM are among the index's worst performers this year; however Atlantia and Telecom Italia have still done even worse. As Finance Minister Giovanni Tria is among a series of speakers set to defend the country's budget plans in parliament, Italian stocks are likely to remain in focus.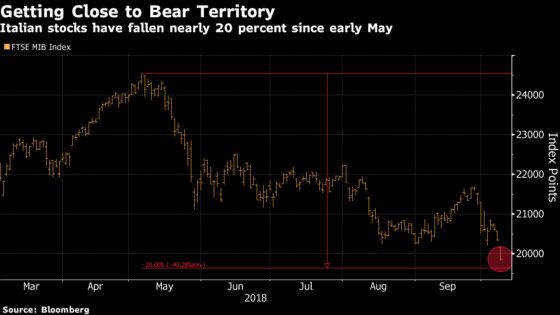 We're entering earnings season on a somewhat pessimistic note: continental European companies are seeing the deepest earnings forecast cuts in more than two years. Analysts have been slashing their 2018 estimates for the region's profits since August, Citigroup's Earnings Revisions Index shows, as concerns about economic slowdown and political risks are denting expectations. Profit downgrades don't bode well for European equities, which have struggled to keep up with the U.S. market this year largely due to the gap in earnings growth between the two regions.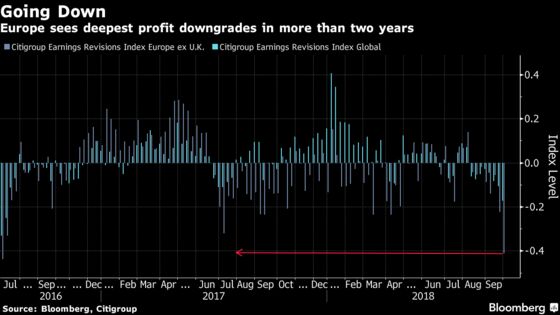 Nevertheless, after investors pulled $43 billion from European equities, their struggle versus their U.S. counterparts may end in 2019, according to HSBC Private Banking.
This leads us back to the recurrent theme: value vs growth. As earnings get revised down, it looks increasingly likely that value stocks may be poised for a proper comeback. "The rise in rates is perceived to be an important catalyst for a long-awaited value rally. We think that global value stocks can build on this week's performance," Morgan Stanley strategist Andrew Sheets wrote in a note to clients.
After last week's focus on luxury stocks -- with concern that China was cracking down on imports of the goods -- LVMH sales after market will be closely watched. Here's the preview.
Elsewhere, the Nikkei slumped as the yen strengthened. The IMF cut its global economic outlook for the first time in more than two years, while top trade negotiators from China and the U.S. are unlikely to meet this week during the IMF and World Bank meetings. Oil is rising again, with BofAML seeing global growth at risk if prices were to climb above $100 a barrel, while most metals are bouncing. Iron ore futures in Dalian jumped to the highest level in almost three weeks on solid demand from steel mills as production ramps up. This is good news for top producers Rio Tinto, BHP Billiton and Ferrexpo.
"Asset allocation is a dynamic process, and we would hate to oversimplify. But we tested a few frameworks to determine the 10-yr yield breakpoint at which bonds look more attractive than stocks, and they all spit out the same number: 5%. 5% is the level of the 10-year Treasury bond yield at which Wall Street's average allocations to stocks peaked,according to our Sell Side Indicator," BofaML strategist Savita Subramanian wrote in a note to clients.
NOTES FROM THE SELL SIDE:
Morgan Stanley is cautious on semiconductors and cut Atlas Copco to underweight from equal-weight, writing the semis down-cycle in 2019 is set to be worse than expected, and will likely pressure valuation.
RBC said Julius Baer has a good business mix and growth strategy longer term, but faces more headwinds than tailwinds in the short term.
Royal Mail got two more downgrades and is approaching its IPO price. Even after last week's plunge, the shares have still not yet fully reflected the amplified profit risks from higher-than-expected costs, RBC says in note, downgrading the stock to underperform from sector perform (PT cut to 315p from 500p). Separately, HSBC analyst Edward Stanford also downgraded Royal Mail to hold from buy (PT cut to 379p from 552p)
Airbus's latest order for the A380 superjumbo has reached an impasse amid drawn-out talks involving the engines, according to people familiar with the matter, possibly imperiling a crucial deal seen as a life-saver for the giant aircraft.
A punishing selloff triggered by a money laundering scandal may have left Danske Bank badly undervalued, according to analysts covering the stock. They now see a 50% upside for the shares.
Bayer is trying to undo a $289 million verdict over Monsanto's Roundup weedkiller that it blames on misinformation fed to a jury, while also seeking to avoid having its next test cases go to trial on an accelerated schedule.
The IMF lowered its global forecast for the first time in more than two years as escalating trade tensions cut into growth and the outlook weakened for emerging markets from Brazil to Turkey, Fund says in latest World Economic Outlook.
Watch Auto Stocks Ahead of Possible Tougher EU Emissions Caps
Watch French Stocks Amid Uncertainty on Macron Reshuffle Plans
Italian Stocks May Remain Bumpy With Tria Set to Defend Budget
Aviva CEO Wilson Steps Down, Is on Track to Deliver Targets
Ferrexpo Third Quarter Pellet Production 2.66 Mln Tons
Greggs Third Quarter Sales +7.3%
YouGov FY Adj. Pretax up 42%, Current Trading In-Line With Views
Finnair Traffic Increases 7.8% in September
WPP Says Ford Appointed Another Agency as Lead Creative Agency
Lar Espana Targets 12% Annual Return on Investments: Filing
Akzo Nobel Specialty Chemicals Division Renamed to Nouryon: FD
ECA Group in Partnership With Naval Group on Mine Hunting
DNO Says Peshkabir Production Reaches 50,000 Bopd Ahead of Time
Roche to Present Study Results for Oncology Drugs Incl. Alecensa
Givaudan Third Quarter Sales Beat Highest Estimate
Nordea Kept Client Despite Warnings From FBI, Borsen Says
Norsk Says Alunorte to Return to 50% Capacity Within Two Weeks
LNG Tanker Methane Mickie Harper Delivers Cargo to Shell Prelude
Ceconomy Cuts Ebitda, Ebit Forecast on Weak Unit Earnings
TECHNICAL OUTLOOK for Stoxx 600 index:
Resistance at 379.9 (23.6% Fibo); 382.9 (50-DMA)
Support at 371.9 (Sept. low); 365.1 (38.2% Fibo)
RSI: 33.7
TECHNICAL OUTLOOK for Euro Stoxx 50 index:
Resistance at 3,406 (50-DMA); 3,458 (200-DMA)
Support at 3,274 (Sept. low); 3,261 (March low)
RSI: 36.6
MAIN RESEARCH AND RATING CHANGES:
UPGRADES:
Commerzbank upgraded to overweight at JPMorgan; PT 10.50 Euros
GN upgraded to buy at SEB Equities; PT 300 Kroner
Kuehne + Nagel upgraded to outperform at RBC; PT 160 Francs
O'Key GDRs upgraded to buy at VTB Capital; PT $2.10
Osmozis raised to neutral at CM - CIC Market Solutions
Schroders upgraded to buy at Berenberg
Telecom Plus upgraded to buy at Peel Hunt
Atlas Copco cut to underweight at Morgan Stanley; PT 225 Kronor
Ipsen cut to underweight at JPMorgan; Price Target 120 Euros
Julius Baer downgraded to sector perform at RBC; PT 55 Francs
NetEnt downgraded to equal-weight at Barclays; PT 41 Kronor
RWE downgraded to hold at HSBC; PT 21 Euros
Ros Agro GDRs downgraded to equal-weight at Alfa-Bank; PT $12.40
Royal Mail downgraded to hold at HSBC; PT 3.79 Pounds
Royal Mail downgraded to underperform at RBC; PT 3.15 Pounds
Sage downgraded to underweight at Barclays; PT 4.95 Pounds
Scor downgraded to neutral at JPMorgan; Price Target 42 Euros
Swedbank downgraded to sell at SocGen; PT 185 Kronor
UBI Banca downgraded to neutral at JPMorgan; PT 3.50 Euros
AstraZeneca rated new buy at Guggenheim
Avesoro Resources rated new buy at Berenberg; PT 2.81 Pounds
Bankia rated new hold at HSBC; PT 3.30 Euros
Glaxo rated new neutral at Guggenheim
Joules Group rated new buy at Berenberg; PT 3.60 Pounds
N Brown rated new hold at Berenberg; PT 1.30 Pounds
Novartis rated new neutral at Guggenheim
Novo Nordisk rated new buy at Guggenheim
Quiz rated new hold at Berenberg; PT 80 Pence
Sanofi rated new neutral at Guggenheim
Siem Offshore reinstated hold at Kepler Cheuvreux; PT 2 Kroner
MSCI Asia Pacific down 0.5%, Nikkei 225 down 1.2%
S&P 500 down 0%, Dow up 0.2%, Nasdaq down 0.7%
Euro down 0.03% at $1.1489
Dollar Index down 0.05% at 95.72
Yen up 0.1% at 113.12
Brent up 0.4% at $84.3/bbl, WTI up 0.4% to $74.6/bbl
LME 3m Copper up 0.7% at $6219.5/MT
Gold spot up 0.2% at $1190.7/oz
US 10Yr yield up 1bps at 3.24%
MAIN MACRO DATA all times CET: