It's Not Just Regulation Hampering Indonesian Telco Deals
(Bloomberg) -- A planned ministerial rule revision intended to pave way for consolidation in Indonesia's telecommunication industry won't be enough to spark deal activity, according to analysts at Citigroup Inc., PT Danareksa Sekuritas and PT Yuanta Securities.
Communications Minister Rudiantara said this month he plans to modify local rules on mobile-communications airwaves, a stumbling block that has been holding back consolidation in Southeast Asia's largest economy. That's propelled shares of PT Indosat and PT Smartfren Telecom, two companies that have been at the focus of merger speculation.
But regulation changes may never happen if Rudiantara, a former telecom executive himself, doesn't keep his role following the April presidential and general elections, Citigroup analysts Arthur Pineda and Hussaini Saifee noted. And even with the rule revision in place, there are other issues that may hamper any deal.
In the case of Indosat and Smartfren, the merger of their physical infrastructure and an unprofitable operating environment are even bigger concerns, according to analysts from Yuanta Securities and Danareksa Sekuritas.
"With a national election looming in April, it remains uncertain if any such reform on spectrum transfer can be made in time," Citigroup's Pineda and Saifee wrote in their Feb. 14 report. "Beyond spectrum-related bottlenecks, we see a need to examine whether there is a commercial case for a consolidation."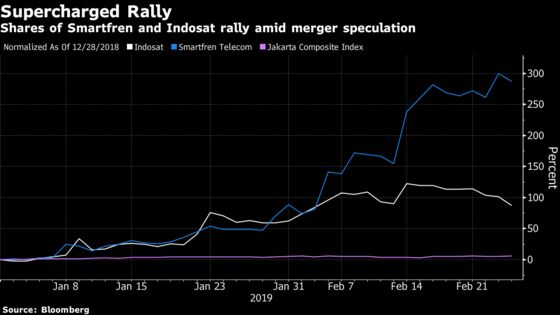 Smartfren shares have almost quadrupled this year through Tuesday's close, making the company Indonesia's most-expensive telco, based on enterprise value to earnings before interest, tax, depreciation and amortization. Indosat has almost doubled, with its stock trading at a premium of around 30 percent relative to its average analyst price estimate. Smartfren fell 1.3 percent on Wednesday, while Indosat rose 2.2 percent.
Despite the merger speculation and share gains, analysts have lowered their recommendations on Indosat. The stock now has only eight buys out of 29 ratings, compared with 11 out of 30 at the start of January, data compiled by Bloomberg show. Smartfren doesn't have any ratings.
For industry consolidation to happen, there needs to be clarity on how the spectrum should be treated, and "I hope the new rule can accommodate this," said Merza Fachys, president director of Smartfren. Indosat Chief Business Officer Intan Abdams Katoppo declined to comment on the revision plan and its potential impact.
Indonesia has attracted global telecommunication companies since the late 1990s thanks to its huge population: with 260 million people, it's the world's fourth largest, and its economic growth has been steady.
But tough competition and high capital requirements due to the nation's geographic conditions have been hurting telcos' profitability. State-controlled PT Telekomunikasi Indonesia Persero is the only listed company in the industry that has reported a profit each year since at least 1995, according to data compiled by Bloomberg.
Indosat, majority owned by Qatar's Ooredoo QPSC, suffered a loss in four out of the six years through 2017 and is expected to stay unprofitable through at least 2021. Smartfren hasn't reported a profit since 2007. PT XL Axiata, the fourth listed telco in Indonesia, posted a record loss in 2018.
A tough operating environment and high capital-spending requirements may deter investors looking into telecom shares, according to Danareksa analyst Niko Margaronis. Just think about this: Local operators will have to open up the purse to move to 5G technology from 4G, and with thousands of islands, it won't be cheap.
"Everyone is enamored with the Indonesian story," he said. "But it's so difficult to monetize from this consumer as it takes a lot of patience to drive a solid business model."