It's JPMorgan vs. Citi as Wall Street Splits on Market Direction
(Bloomberg) -- Wall Street's biggest firms are divided on where markets are heading to next.
While most risk assets are well off their mid-March lows, when uncertainty about the global impact of the coronavirus outbreak was at its peak, there is little consensus on what is to follow. At the core of the debate is the long-term effectiveness of the massive stimulus from central banks and governments.
Citigroup Inc., for one, doesn't get the "puzzling" rise in stocks.
"Extensive policy response, led by ample liquidity provided by central banks, likely contributed to the move in the markets," economists including Igor Cesarec and Catherine Mann wrote in a note Thursday. "However, since it is not clear that markets can be propped up indefinitely, caution is warranted. Risk assets could be fragile once the cold, hard economic reality hits again."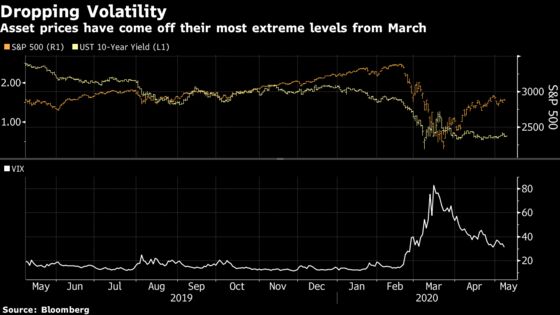 On the other hand, JPMorgan Chase & Co. sees the stock market advance as justified -- and one which can continue.
"While the collapse in economic activity is historic, so too is the global policy response to cushion the impact and support a recovery," strategists led by Marko Kolanovic wrote in a note Thursday. "We expect risky assets to continue to recover as economies reopen and given the unprecedented policy support, though we expect a moderation in the pace of gains."
The MSCI AC World Index has climbed about 25% since March 23 as investor sentiment warmed toward a slew of worldwide policy measures to offset the economic impact of the pandemic. The global gauge had fallen as much as 34% from its February high, when concerns about the virus reached a peak.
Goldman Sachs Group Inc. and Morgan Stanley largely see gains remaining intact, with caveats.
Goldman attributes the market rise to a stabilization in virus infection rates and an improvement in measures of funding and liquidity stress. The firm has already said that equities price in macroeconomic performance over a two-year time horizon and investors may look past huge economic damage.
"Markets will continue to look through bad news about the depth of the economic downturn if they can continue to hold on to their view that a sizable chunk of the recent damage will be reversed by the end of next year," strategists including Zach Pandl wrote in a note Tuesday.
And Morgan Stanley is also comfortable with the disparity between asset price performance and fundamentals, noting that markets tend to lead the economy and care more about rate of changes than absolute levels.
"Divergences between the market and economy are common at economic extremes," wrote strategists including Andrew Sheets in a note Thursday. "Rate of change is key – a 'U' shaped recovery is fine, a 'W' is not."