It's Been 1,246 Days Since Vanguard's Global ETF Had an Outflow
(Bloomberg) -- Over the past three years, stocks have been rocked by deteriorating trade relationships, economic turbulence and a pandemic that's ravaged the globe. Throughout it all, investors have refused to pull cash from one of Vanguard Group's largest exchange-traded funds.
The $37 billion Vanguard Total International Stock Index Fund ETF (ticker VXUS) hasn't posted an outflow since July 25, 2017, data compiled by Bloomberg show. The fund -- which invests in global equities excluding U.S. shares -- has seen net withdrawals only on four days since it started trading in 2011 -- one of which was a rebalancing flow that was fully offset by a return of assets the following day, according to Bloomberg Intelligence.
That remarkable stability is emblematic of the buy-and-hold mentality of the typical Vanguard client: financial advisers and longer-term investors, according to CFRA Research's Todd Rosenbluth. The world's second-largest ETF issuer -- known for its rock-bottom fees -- has dominated the $5.3 trillion industry in 2020 as stocks rebounded from the swiftest bear-market on record. That's even as net flows to its funds have slowed.
"Investors in Vanguard ETFs tend to be patient and will slowly increase exposure, as opposed to packing," said Rosenbluth. "It's the poster child for the fact that Vanguard doesn't have outflows. It's relatively rare for their products -- they're not used for tactical purposes."
The only outflows the ETF has shown since July 2017 are for one or two shares at a time -- suggesting a rounding adjustment and not an actual loss of cash since the minimum redemption for the fund is 100,000 shares, according to BI.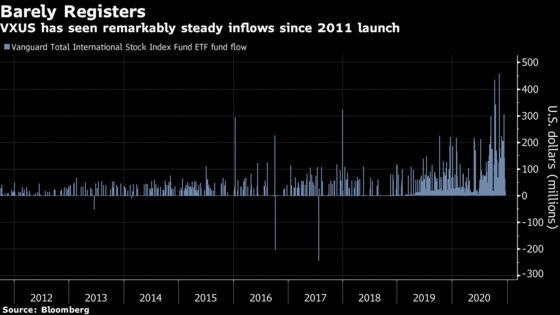 VXUS has absorbed $15.6 billion so far in 2020, ranking it fourth on the U.S. equity ETF inflow leaderboard behind two other Vanguard products and the $149 billion Invesco QQQ Trust Series 1 ETF (ticker QQQ). The fund had a record one-day haul of $459 million in November after news of Pfizer Inc. and BioNTech SE's promising Covid-19 vaccine trial brightened the outlook for the global economy. It has surged about 60% since the stock-market bottom in March.
"Investors are evolving some of their home bias away and including international equities," said Rich Powers, Vanguard's head of ETF product. "It's not surprising to us that this is one of the first products they consider."
The firm's overall ETF inflows have been boosted by the conversion of some of its mutual-fund clients to lower-cost ETF shares, a process which amounted to $37 billion in mid-December. Vanguard ETFs have taken in roughly $200 billion year-to-date.
Most of the assets in VXUS tend to be "sticky" because the fund's underlying holdings -- over 7,500 equities from at least 10 countries -- make it difficult to use the fund as a trading vehicle, according to Dave Nadig of ETF Flows.
"Nobody's making money scraping nickels off the floor of this thing," said Nadig, chief investment officer and director of research at the research and data provider. "It's essentially only used by allocators, not traders."
In contrast, ETFs such as State Street's $324 billion SPDR S&P 500 ETF Trust (ticker SPY) and QQQ are heavily used by options and futures traders.