It's Back to Basics as Asia Stock Pickers Look Beyond U.S. Vote
(Bloomberg) -- As the U.S. election count keeps political pundits engrossed, some money managers in Asian stocks are already turning focus to fundamental factors that they say will have a stronger bearing on regional shares in the months to come.
They may consider a likely Joe Biden presidency as a favorable outcome for Asian equities, but investors are also honing in on a recovery in earnings from the virus-outbreak lows and the pace of China's economic rebound. With that in mind beaten-down names in Southeast Asia and green stocks are among the top picks, together with pandemic winners such as technology shares.
"Beyond the election results, the case for Asian equities is strong," said Sukumar Rajah, director of portfolio management at Franklin Templeton Emerging Markets Equity. "China's growth is underpinned by a diversified domestic economy driven by innovation and digitalization, whereas Taiwan and Korea are beneficiaries of the structural growth in tech hardware as well as the diversification of the global tech supply chain."
The MSCI Asia Pacific Index has surged about 6% this week to its highest level since February 2018. Here are some of the key investment strategies being adopted by fund managers:
It's growth over value, still. Pictet Asset Management Ltd. and Maitri Asset Management Pte. are among firms betting that stocks which skyrocketed during the pandemic will be beneficiaries of structural trends such as 5G technology, digitalization of businesses and remote working arrangements.
"Technology stocks still provide the most growth potential," said Ankit Khandelwal, chief investment officer at Maitri Asset. "For a sustained rotation into value stocks, we would need to see a sustainable rise in bond yields as well as significant progress in Covid-19 vaccine development. We are not there yet."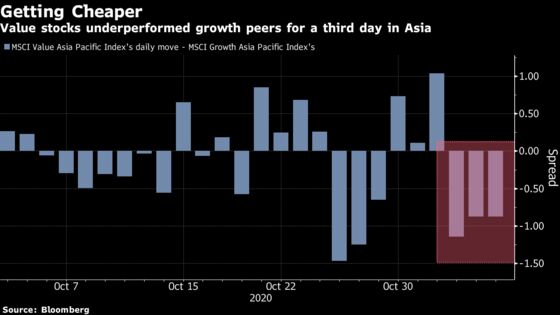 The MSCI Growth Asia Pacific index has rallied about 6% this week to take its 2020 gain to 22%. A gauge of value shares is down 9% year-to-date despite a 5% gain this week.
"The longer-term outperformance of growth over value stocks is set to continue," said Stefan Hofer, chief investment strategist at LGT. "We would consider to buy more Asian equities, so as to add beta to our portfolios, probably at the expense of European stocks, where the outlook for the current quarter has unambiguously dimmed owing to the surge in Covid-19."
Aberdeen Standard Investments Asia Ltd. and Franklin Templeton are among asset managers seeing potential gains for environmentally friendly companies in Asia. These include Korean battery makers and companies in the cloud computing, electric vehicles and clean energy space.
While policies from the new U.S. government "will have some bearing" on the global push toward a greener world, China's recent pledge of carbon neutrality and Europe's involvement mean there's "significant runway for growth" for Asian firms, said Christina Woon, investment manager for Asian equities at Aberdeen Standard.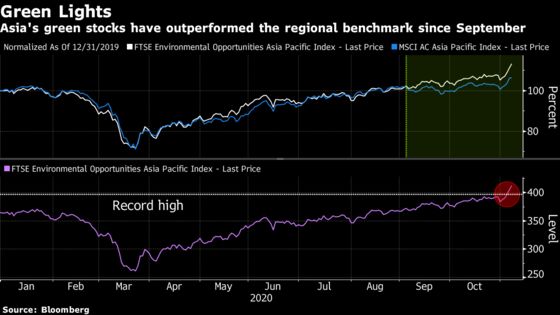 The FTSE Environmental Opportunities Asia Pacific Index jumped to an all-time high this week.
Stocks in Southeast Asia are seen as one exception to the overarching growth over value theme for some investors as they expect the earnings recovery in the region to be more pronounced, with support for stocks also coming from a gradual revival in tourism.
"Southeast Asia's growth catch-up supports a rotation story for investors to take on greater risk in the region," said Adrian Zuercher, UBS Global Wealth Management's head of global asset allocation, adding that he expects the MSCI Asean Index to return 10% over the next year.
The MSCI Asean Index has climbed 7.4% this week, outpeforming the wider Asian gauge, but is still down about 19% for the year.
"Asean and India have lagged in terms of Covid normalization but are gradually re-opening with macro recovery supported by favorable demographics," said Franklin Templeton's Rajah.
"From a near-term perspective, valuations in Southeast Asia are attractive at current point and many of the Southeast Asian economies are starting to see a pickup in post-Covid recovery," he added.