It's a Big Week for Funds That Are Ready to Buy $45 Billion of Stocks
(Bloomberg) -- A big week for the global economy may prove make or break for investors acutely sensitive to market volatility.
If benign conditions endure, these funds could start sinking as much as $45 billion into stocks, adding juice to the new year rally.
But pitfalls loom and threaten to set into motion a fresh wave of turbulence -- including trade talks, economic data, corporate earnings and the Federal Reserve meeting.
All that is raising hopes and fears on Wall Street about whether portfolios that flip between risky assets and cash to target a given level of volatility can invest en masse after last year's rout forced a wave of selling.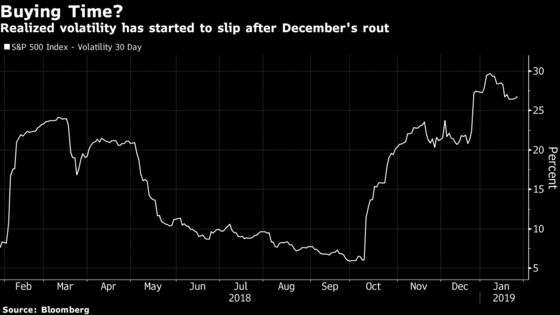 "Market participants will be drinking from the firehose this week as a plethora of domestic (as well as international) indicators are set for release," Sam Bullard, senior economist at Wells Fargo, wrote in a note.
While December's S&P 500 sell-off has continued to keep 90-day realized volatility elevated, shorter-term market measures are starting to come down as bulls seek control. The Cboe's VIX Index is below 20, suggesting S&P 500 options buyers aren't anticipating a fresh outbreak of swings.
Although specific inputs that determine exposures differ from fund to fund, bullish expectations for these programmatic traders are rising.
"If volatility continues to subside, these strategies could steadily re-risk," wrote Pravit Chintawongvanich, equity derivatives strategist at Wells Fargo, which estimates their assets at $400 billion.
If historic three-month price swings ease to 15 percent, these funds could hike their equity allocations by $13 billion per month, or about $40 billion over three.
Deutsche Bank AG strategists led by Binky Chadha also see $40 billion to $45 billion of buying, as long as price swings continue to subside. They reckon vol-control portfolios are about mid-way to their full equity allocations.
Another pool of untapped buyers are risk-parity managers, who weight assets by their risk and oversee around $200 billion, according to Wells Fargo estimates. However, these funds typically look at longer-term measures, meaning they may be slower to react.
"Cross-asset volatility is now falling, and fixed income has been negatively correlated with equities," the Deutsche Bank strategists said in a note. "If these conditions hold, we would expect risk-parity managers to start adding risk in both asset classes."