A Single Trade Worth $1 Billion Fueled Record Flow to Europe ETF
(Bloomberg) -- It looks like a single giant trade has just fueled the biggest ever inflow to one of BlackRock Inc.'s funds tracking European markets.
The iShares MSCI Eurozone ETF (EZU) lured about $1.1 billion of new money on Monday, boosting its assets to $8.1 billion, according to data compiled by Bloomberg. Among transactions on the day was one trade worth $977 million at around 1:17 p.m. in New York.
While it's impossible to say with absolute certainty the trade was an inflow and difficult to know who was responsible, a huge bet on Europe chimes with recent rising optimism surrounding the region. As vaccinations ramp up and economic activity begins to recover, European stocks are trading at a record and ETFs tracking the region posted the best inflows since 2015 last month.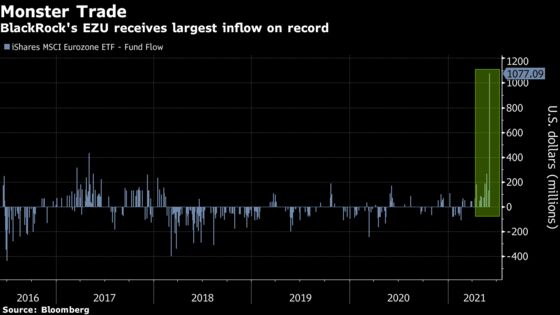 "We're starting to see numbers that are greater than expected and outlooks that are more bullish than expected in Europe," said Greg Bassuk, chief executive officer at AXS Investments LLC. "We've been urging investors to get out in front of that."
EZU is up 16.7% year-to-date, compared with 12.5% for the S&P 500 and 14% for Europe's Stoxx 600 Index. Investors added $5.9 billion to U.S. ETFs focused on European markets in May.
Following are EZU's biggest holdings as of June 4:
| Name | Ticker | Position | Value (USD) | Change in Position | % of Total Asset Value |
| --- | --- | --- | --- | --- | --- |
| ASML Holding NV | ASML NA Equity | 502,280 | 341 million | 0 | 4.9 |
| LVMH Moet Hennessy Louis Vuitt | MC FP Equity | 332,395 | 263.3 million | 0 | 3.8 |
| SAP SE | SAP GR Equity | 1.25 million | 174.6 million | 0 | 2.5 |
| Siemens AG | SIE GR Equity | 915,977 | 151.5 million | 0 | 2.2 |
| TotalEnergies SE | TTE FP Equity | 2.99 million | 144.4 million | 0 | 2.1 |
| Sanofi | SAN FP Equity | 1.36 million | 142.1 million | 0 | 2 |
| L'Oreal SA | OR FP Equity | 301,656 | 138.1 million | 0 | 2 |
| Allianz SE | ALV GR Equity | 493,661 | 131.3 million | 0 | 1.9 |
| Schneider Electric SE | SU FP Equity | 645,023 | 102.5 million | 0 | 1.5 |
| Daimler AG | DAI GR Equity | 1.02 million | 99.1 million | 0 | 1.4 |