Is This Trade-Truce Rally Built to Last? Strategists Weigh In
(Bloomberg) -- The morning surge in the S&P 500 amid a U.S-China trade truce was running out of steam by lunch.
The benchmark gauge that rose as much as 1.5 percent at the open has since lost about half its advance to trade around 2,785, fueling concerns the rebound is nothing more than a one-day story for the index. The clues will lie in trade headlines and some technical levels analysts and strategists are paying close attention to.
Frank Cappelleri, senior equity trader and market technician at Instinet LLC, has his eyes set on the 2,860 level after the index's run on Friday and Monday. But first the S&P has to advance past 2,800, the level that's been unassailable a few times during the market's rally attempts earlier this year. Monday's intraday climb stopped precisely there.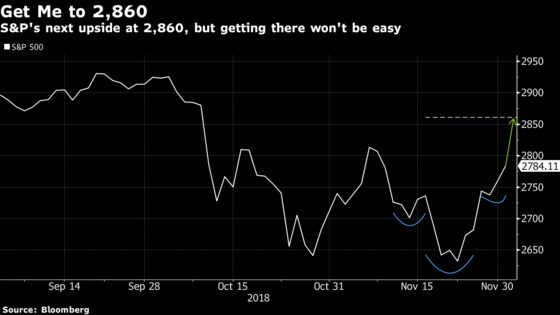 What does the S&P need to rally to 2,860? A broader market rally, according to Cappelleri. The market's current best-performing sector exchange-traded funds - health care, utilities, real estate and consumer staples - make up just 30 percent of the S&P.
"The remaining sectors have work to do, and their participation is needed for the general market to continue this comeback," he said in a note to clients.
The S&P 500's close above 2,818 will tactically mitigate investors' concerns about weakness in credit, crude and currencies, according to Rich Ross, Evercore ISI's head of technical analysis. That index level is just four points away from the S&P's current 100-day moving average of 2,814 and has served as resistance since October.
"Below 2,818 we remain vulnerable to volatility," Ross said in a note to clients.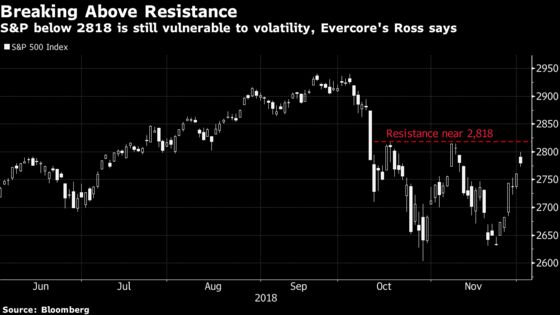 The rally in the S&P 500 won't last long unless small-cap stocks advance as well, according to Gina Martin Adams, chief equity strategist at Bloomberg Intelligence.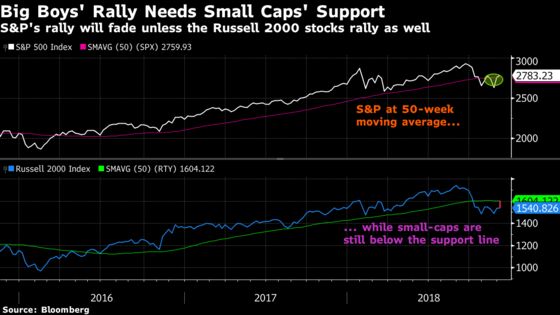 The indexes' 50-week support lines are of particular importance. The S&P 500 sits right there after the five up sessions in six days, but stocks in the Russell 2000 Index are still more than 60 points away from the 50-week support level. That's not a good sign, if history is any guide. During market corrections in 2011 and 2015, the S&P 500 rallied past its 50-week moving average, but the move wasn't confirmed in small-cap stocks, and the S&P advance subsequently failed.