Investors in Australia Look Set for a Dividend Bonanza
(Bloomberg) -- The world's third-highest dividend yielding developed market is expected to boost payouts to the most in at least four years as investors reap the benefits of a resources-based economy.
Five times as many companies are likely to boost dividends from a year earlier than cut among the top 100 stocks reporting in August, according to data compiled by Bloomberg. More than a quarter of the expected payments are coming from two of the world's largest miners, the data show.
A lift in commodity prices is expected to help Australia's largest companies declare about A$27 billion ($19.9 billion) in dividends, 2.7 percent higher than a year ago, according to the data. BHP Billiton Ltd. and Rio Tinto Ltd. are seen accounting for about A$6.7 billion, the largest August payout since 2015 as high prices and asset sales cut debt and free up cash.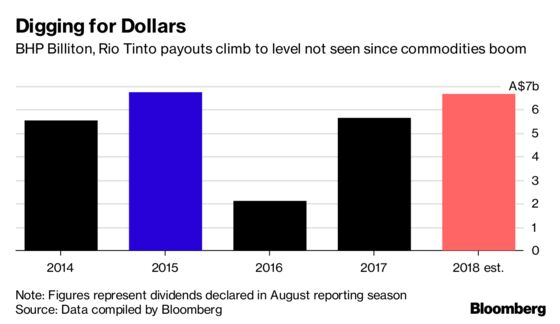 Resources stocks are benefiting from cost cuts over the past two years, said Don Hamson, Managing Director of Plato Asset Management, a A$4.9 billion fund that chases dividends. "Higher prices just flow right through and they're in a position to return more to shareholders."
Still, not all iron ore stocks are so positive. While BHP and Rio are seen lifting payouts, Fortescue Metals Group Ltd. is expected to cut its dividend by more than a quarter amid a global discount for the lower grade ore it mines.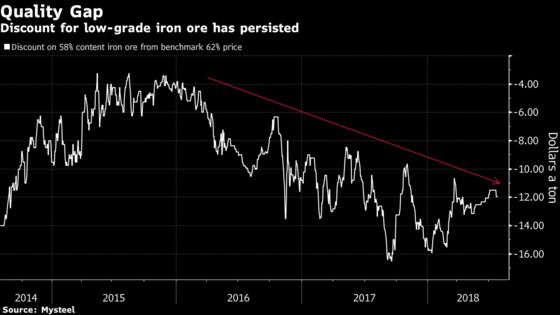 The overall projected dividend boost is set to cement Australia's benchmark as one of the highest yielding markets among its developed peers. Of the ASX 100 companies reporting in August, 47 are tipped to increase payouts, 10 are seen cutting, while 15 are expected to maintain their rate from a year earlier, according to the data that is based on analyst forecasts and historical trends.
"Confession season has been relatively mild," Citigroup Inc.'s Australia equity strategists led by Tony Brennan wrote in a July 27 note. "Earnings forecasts have deviated little in recent months."
Aurizon Holdings Ltd. is expected to lead the gainers, with its payout tipped to rise 56 percent from the same time last year amid regulatory uncertainty surrounding changes at its Queensland business that could cut coal volumes across the network.
Copper miner OZ Minerals Ltd. is seen lifting its dividend by 50 percent as the company reaffirmed its 2018 output target and revealed a A$454m cash balance earlier this month.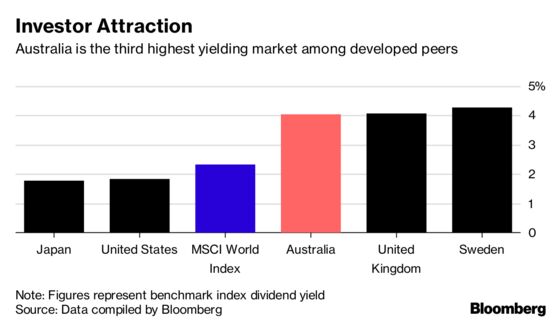 Telstra Corp.'s dividend is under pressure, with the payout set to be cut almost 30 percent from a year earlier as it restructures its business and cuts staff amid competition from TPG Telecom Ltd. and Singapore Telecommunications Ltd. The former government monopoly will likely have halved their payout within two years relative to 2017 as payments from the National Broadband Network for its copper infrastructure end, Hamson said.
"It's going to be tough for them to grow their earnings to increase their dividend," he said. Still, with smaller stocks expected to raise payouts in August, "the rest of the market will make up for Telstra's cuts."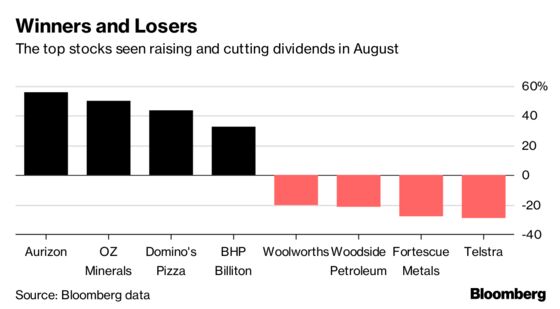 These are the 5 largest companies by market cap seen raising dividends:
BHP Billiton (BHP) BDVD est. $0.57 vs $0.43 yr ago
Commonwealth Bank (CBA) BDVD est. A$2.37 vs A$2.30 yr ago
Rio Tinto (RIO) BDVD est. A$1.49 vs A$1.38 yr ago
CSL (CSL) BDVD est. $0.87 vs $0.72 yr ago
Wesfarmers (WES) BDVD est. A$1.23 vs A$1.20 yr ago
These are the 5 largest companies by market cap seen cutting dividends:
Woolworths (WOW) BDVD est. A$0.40 vs A$0.50 yr ago
Telstra (TLS) BDVD est. A$0.11 vs A$0.155 yr ago
Woodside Petroleum (WPL) BDVD est. $0.38 vs $0.48 yr ago
Newcrest Mining (NCM) BDVD est. $0.07 vs $0.08 yr ago
Fortescue Metals (FMG) BDVD est. A$0.18 vs A$0.25 yr ago
These are the 5 largest companies by market cap seen maintaining their payout:
Insurance Australia (IAG) BDVD est. A$0.20 vs A$0.20 yr ago
Lendlease (LLC) BDVD est. A$0.33 vs A$0.33 yr ago
Qantas (QAN) BDVD est. A$0.07 vs A$0.07 yr ago
AMP (AMP) BDVD est. A$0.145 vs A$0.145 yr ago
Computershare (CPU) BDVD est. A$0.19 vs A$0.19 yr ago