Iron Ore Futures Tumble in Singapore as Vale-Driven Rally Frays
(Bloomberg) -- Iron ore futures in Singapore tumbled, set for their first back-to-back daily drop since Vale SA's dam disaster late last month, as investors weigh a likely shortfall of the steel-making ingredient against cooling demand in China.
Benchmark futures in Singapore plunged as much as 7 percent to $82 a ton, albeit in thin overnight action, before trading 4.7 percent lower at $84 by 3:04 p.m. The fall comes after prices broke above $90 last week, capping a 20 percent-plus surge over the past fortnight. On the Dalian Commodity Exchange, iron ore futures fell 2.8 percent, after closing limit-up Monday to their highest since March 2017 as Chinese traders played catch-up following the Lunar New Year break.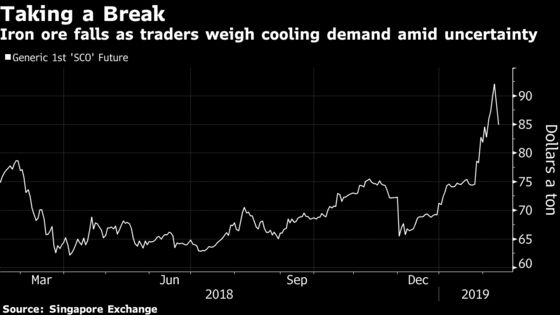 "If there are no more additional closures or planned closures in Brazil, then there may be some kind of price correction," Richard Lu, analyst at CRU Group in Beijing, said by phone. "Some mills are already at break-even and steel demand is still weak. So, if steel prices retreat to pre-holiday levels, the mills will be reluctant to buy raw materials in the near term."
Vale has flagged production cuts of as much as 70 million tons in the wake of the deadly dam breach, spurring worries about a substantial loss of seaborne supply. Although the miner has said it will ramp up elsewhere, the extent of the output loss remains unclear, and there are concerns that further action from Brazil's regulators will affect Vale's other operations.
"We expect strong price volatility in iron ore markets as long as uncertainty remains on Vale's iron ore production outlook," said Vivek Dhar, analyst at Commonwealth Bank of Australia.
As Vale's troubles mount, observers have revised price forecasts, though cautioning that the situation remains fluid. Goldman Sachs Group Inc. has said that, while iron ore will stay "elevated and volatile," prices of around $90 won't be sustainable as miners outside Brazil, including in China, are expected to increase output.
Barclays Plc analyst Ian Littlewood said he'll await more clarity before changing a price outlook of $65 a ton for 2019, acknowledging that the subsequent suspension of mining at another Vale operation at Brucutu presents an upside risk to the forecast.
More on Vale's dam disaster:
Vale Faces Daunting Odds for Quick Return as Troubles Mount
Vale Evacuates 500 Near Inactive Mine Amid Growing Scrutiny