Irish Stocks Pummeled as Concern Mounts for May's Brexit Deal
(Bloomberg) -- Irish stocks slumped the most in western Europe on Thursday amid mounting concern that the U.K. could crash out of the European Union without a deal.
While U.K. Prime Minister Theresa May has sealed an accord with the EU on the terms of Britain's departure from the bloc, opposition in Westminster is growing with two Cabinet ministers quitting on Thursday. The benchmark ISEQ fell 2.2 percent at 12:15 p.m. in Dublin, with Ryanair Holdings Plc and Bank of Ireland Group Plc each down about 5 percent.
"The challenge of getting the deal passed through Cabinet was one thing, but getting a majority vote in Parliament is a different beast, as the numbers seemingly don't add up to have the deal voted through," Alexander Wilson, an analyst at Goodbody Stockbrokers in Dublin, wrote in a note.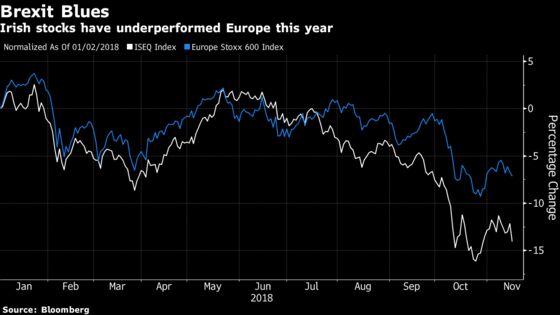 Ireland is considered the European economy most vulnerable to Brexit, with about 15 percent of exports going to the U.K. This week, Irish insulation maker Kingspan Group Plc said it's monitoring a "general sense of nervousness prevailing globally." As well as concerns over the health of the British economy, sterling weakness hurts Irish companies, which make a large chunk of their earnings in pounds.
Sterling tumbled after Brexit Secretary Dominic Raab and fellow U.K. minister Esther McVey announced their resignations, with the pound falling 1.2 percent to $1.2832, the weakest in more than two weeks.
The ISEQ's biggest percentage faller was unrelated to Brexit concerns. Minnow Great Western Mining Corp. Plc slid 33 percent and has lost almost two thirds of its value since saying on Wednesday that it is suspending drilling in Mineral County, Nevada, until next spring due to freezing weather.