Iraqi Protesters Take Bodies of Raid Casualties to U.S. Embassy
(Bloomberg) -- Members of an Iran-backed Iraqi militia marched with the coffins of fighters killed in a U.S. raid near the American Embassy in Baghdad, where they and their backers staged an angry protest.
Live footage on Iraqi TV showed thousands of protesters gathered near the mission, some carrying the flags of Iraq and the Kataieb Hezbollah militia. Some chanted, "No, no to Israel. No, no to the U.S."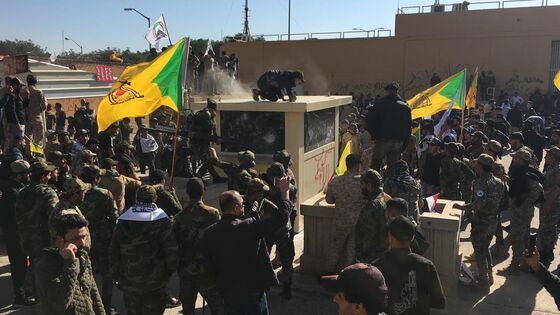 The airstrikes Sunday on five Kataieb Hezbollah bases in Iraq and Syria were launched after repeated attacks on a U.S.-led coalition deployed in the region to crush Islamic State. Sunday's rare direct strike on an Iranian proxy came at an especially tense time and held the potential for escalation.
The U.S. and Iran are locked in a standoff over the Trump administration's crippling economic offensive against Tehran -- meant to force it to renegotiate the 2015 nuclear deal Washington has abandoned -- and the Islamic Republic's suspected reprisals.