Iraq Oil Minister Joins Bulls Seeing $100-a-Barrel Crude
(Bloomberg) -- Add Iraq's oil minister to the list of people discussing oil hitting $100 a barrel again.
Crude prices could hit triple digits for the first time since 2014 in the first half of next year, Ihsan Abdul Jabbar, the oil minister of OPEC's second-largest producer, said at an event in Baghdad on Wednesday. Russia's president Vladimir Putin said earlier this month that it's "quite possible" they will hit $100, while the boss of trading giant Mercuria Energy Group Ltd. said on Monday prices could reach that level this winter.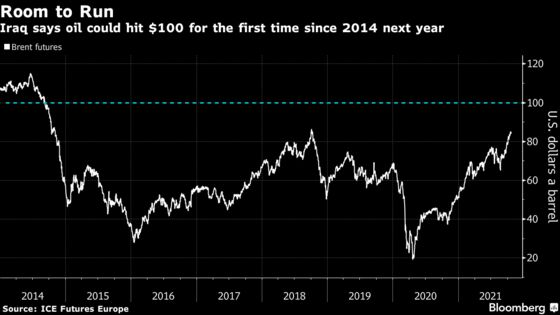 The talk comes as global oil inventories continue to decline, with analysts forecasting stock draws of about a million barrels a day in the fourth quarter. High natural gas prices are firing up demand, and the Organization of Petroleum Exporting Countries is only drip-feeding extra supply back to the market, leaving some market watchers concerned that prices could spike if the northern-hemisphere winter is cold.
Speaking in Baghdad, Iraq's minister said his country prefers prices between $75 and $85 a barrel, and that it doesn't want to see them rising above necessary levels. He said that oil stockpiles are low globally.
Aside from major oil producers and traders, Bank of America also echoed the call for triple-digit crude. The bank has said diesel could drag the market higher as traders scramble to secure heating fuels this winter. Prices were trading near $85 in London on Wednesday, close to their highest since 2018.