Iran Says Saudis, Russia Must Cut Oil Supply After Failed Boost
(Bloomberg) -- Saudi Arabia and Russia are being forced to reduce production after their plan on reversing cuts backfired, Iran's representative to OPEC said, pegging the potential cut at more than 1 million barrels a day.
"They have over-balanced the market," Hossein Kazempour Ardebili said in an interview. "Saudi Arabia and Russia have increased production and prices have come down $15 a barrel."
The OPEC+ coalition, spearheaded by those two key producers, will discuss the possibility of cutting production again for 2019 in Abu Dhabi on Sunday, according to delegates who declined to be identified. Brent crude traded at around $73 a barrel Wednesday after rising to a four-year high of more than $86 a barrel in early October.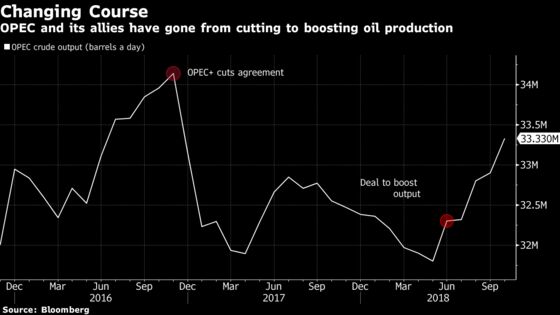 Saudi Arabia and Russia have increased production to near-record levels in recent months, partly to offset concerns that U.S. sanctions against Iran -- which kicked in over the weekend -- would lead to a shortage.
"The two have to cut," Kazempour said. "The minimum they have to cut is 1 million barrels day, otherwise no-one will factor it in."
The drop in crude prices has hurt smaller members of the coalition who weren't able to make supply increases on the same scale as Saudi Arabia or Russia, Kazempour said. Those smaller nations may now be reluctant to co-operate in a collective cutback, he predicted.
The OPEC+ alliance will meet again to settle policy for 2019 in Vienna next month, where they'll also discuss a framework to make their partnership more permanent. Iran will only support such a long-term agreement if it ensures that any decisions taken by the coalition are approved by all countries involved, Kazempour said. Iranian Oil Minister Bijan Namdar Zanganeh has written to OPEC calling for the dissolution of the committee that currently represents the coalition, according to Oil Ministry news service Shana.
"They have a bad record," Kazempour said of the committee. "Why institutionalize such a failure? But, with certain terms and conditions -- such as that there will be no production increases without unanimity -- we can join it."
Saudi Arabia co-chairs the committee, which doesn't include Iran.