Iran Points to Big Gaps at Nuclear Talks on Eve of Election
(Bloomberg) -- Iran said fundamental differences remain with world powers over restoring their 2015 nuclear deal, and urged the U.S. to "rectify what it's done in the past" in order for talks in Vienna to progress.
The comments Thursday by Abbas Araghchi, Iran's deputy foreign minister and lead negotiator, echoed similar statements made by France and Germany a day earlier. He said the sides were closer "than at any other time" to reaching an agreement, but optimism of an imminent breakthrough has slid as Iran approached Friday's presidential election.
"Iran wants the negotiating parties to emphasize that what happened with Trump's exit from the deal will never happen with any other U.S. president," Araghchi said in a statement on Thursday.
Diplomats, led by the European Union, are in the Austrian capital trying to iron out differences between Iran and the U.S. over outstanding issues blocking a path back to the accord that had lifted sanctions on the oil-rich Persian Gulf country in exchange for limits on its nuclear program.
International Atomic Energy Agency monitors said Iran hasn't yet offered to extend a temporary monitoring pact set to expire June 24. An Iranian government spokesman said Wednesday that the agreement would only be prolonged if there's progress this week in Vienna.
Failure to revive that accord, which preserves IAEA camera and monitoring data gleaned from nuclear facilities, will result in that information being erased, IAEA Director General Rafael Mariano Grossi said in an interview with Bloomberg Television.
"If this information is erased, quite simply there will be a black hole from February to June in terms of enrichment and other activities in Iran with serious consequences for non-proliferation," said the Argentine diplomat, adding that Iran retains enough economic power to dramatically expand its nuclear work.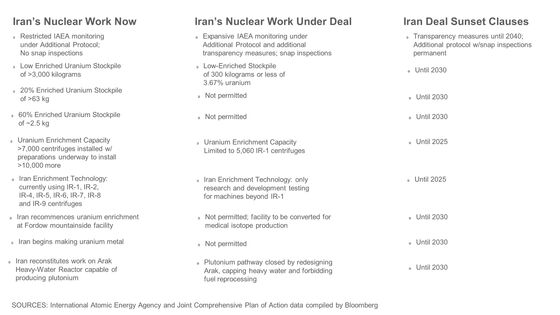 Oil markets are closely watching the negotiations for signs of how soon the U.S. penalties, reimposed by then-President Donald Trump after he left the deal in 2018, are likely to be removed and how quickly OPEC-member Iran will ramp up oil production and boost exports of crude.
Diplomats in Vienna have said talks could be further complicated by Iran's presidential elections, when a hardliner hostile to the West is widely expected to win office.
Voters are set to pick a replacement for Hassan Rouhani, a moderate who helped shepherd the original 2015 accord and sought improved ties with the U.S. Many leading reformist candidates were barred from contesting the election, leaving the door open for hardliner Ebrahim Raisi. Despite being strongly opposed to engagement with the U.S., he has pledged to preserve the deal if elected.
"I see no concern over the victory of Ebrahim Raisi in the elections," Araghchi said on Telegram. "The nuclear negotiations are within the country's macro-political framework."
While the president can set the tone and posture for the country's attitude to the outside world, major foreign policy decisions ultimately lie with Supreme Leader Ayatollah Ali Khamenei, who has so far given the go-ahead to talks on condition that the revived deal guarantees the effectiveness of U.S. sanctions removal and prevents a future administration from abandoning it again.
The IAEA's Grossi, whose inspectors would be charged with verifying that the nuclear part of the agreement is enforced, said that he sees a compromise within reach regardless of who wins Iran's election.
"The issues are complex, they're difficult but there could be solutions," he said.