Investors With $513 Billion Cut Tech Allocations to 2009 Low
(Bloomberg) -- In an echo of the crisis heyday, money managers are abruptly falling out of love with the equity market's highest-fliers.
Investors have cut allocations to the technology sector to the lowest since February 2009, with just a net 18 percent now overweight, according to this month's Bank of America Merrill Lynch global fund manager survey.
The equity rout that has pushed volatility in the Nasdaq 100 to the highest since 2011 could yet intensify, according to Wall Street's widely followed poll. Investors are fretting aggressive valuations and stretched positioning in stocks that have powered the post-crisis bull run.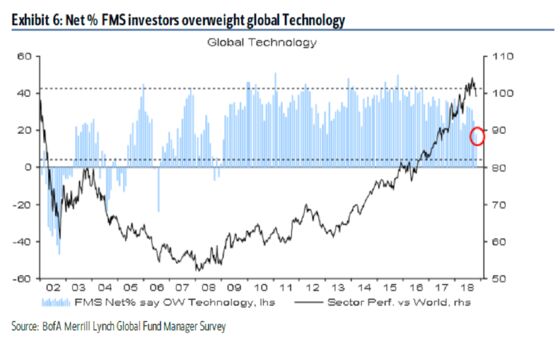 Even after the shift, long positions in the FAANG quintet of Facebook, Amazon, Apple, Netflix, and Alphabet (the parent of Google) and their Chinese counterparts, the BAT trio of Baidu, Alibaba, and Tencent, were dubbed the most-crowded trade once more -- a distinction they have held since February.
Meanwhile, there are no signs of investors rotating into small-capitalization and industrial shares, according to the survey -- suggesting it's unlikely beaten-up value shares can pick up the slack anytime soon.
"We stay bearish," Bank of America strategists led by Michael Hartnett wrote in a note Tuesday. "Investor positioning does not yet signal The Big Low in asset markets -- likely Q2'19 at earliest."
Other highlights of the poll include:
Cash balances dropped to 4.7 percent from 5.1 percent in October, implying investors bought the October dip
Portfolio managers upped exposure to U.S. and emerging-market equities, with REIT and healthcare stocks firmly in favor
Equity bulls have reasons to fear:
Some 44 percent reckon global growth will fall over the next year, the worst outlook since November 2008
And 54 percent predict Chinese growth will decelerate next year, the most bearish projection since September 2016
Underscoring fears over the health of corporate balance sheets, a net 33 percent say payout ratios are too high -- a record high
Equity bulls have reasons to cheer:
Investors say a 3.7 percent yield on 10-year Treasuries would spur a material shift from stocks into bonds. With the benchmark struggling to break above the 3.2 percent level, the competition for risk capital from fixed-income markets might be over-stated
Although 30 percent reckon U.S. indexes have peaked -- almost double last month's reading -- the weighted-averaged projection suggests the S&P 500 could yet hit 3056, implying more than a 10 percent upside from the current level
The global survey was conducted from Nov. 2 to 8 among 174 panelists.