Investors Sour on Floating Rate Funds After Dovish Turn by Fed
(Bloomberg) -- Federal Reserve Chairman Jerome Powell's comments on interest rates Wednesday inspired at least one exchange-traded fund investor to yank cash from a variable rates ETF.
The $1.9 billion Invesco Variable Rate Preferred ETF, ticker VRP, which tracks an index of variable- and floating-rate preferred stocks, has had two large block trades since Powell's seemingly dovish remarks. Nearly 4.3 million shares worth more than $101 million sold at 1:17 p.m. in New York on Wednesday, and an additional 4.6 million shares worth nearly $110 million printed Thursday morning.
Floating-rate securities help mitigate interest rate risk. And by all appearances, at least one investor is ditching the strategy as the possibility of long-term rising rates seems to have diminished.
Two of VRP's largest holders include Charles Schwab Corp. and Bank of America Corp., according to Bloomberg data based on filings from Sept. 30. As of the end of the third quarter, Charles Schwab owned 12.3 millions shares and Bank of America held close to 5.3 million.
In a speech on Wednesday, Powell said that the Fed had brought interest rates to "just below" the range of neutral estimates. That seemed to be a reversal from his comments in October, when he said rates were a "long way" from neutral.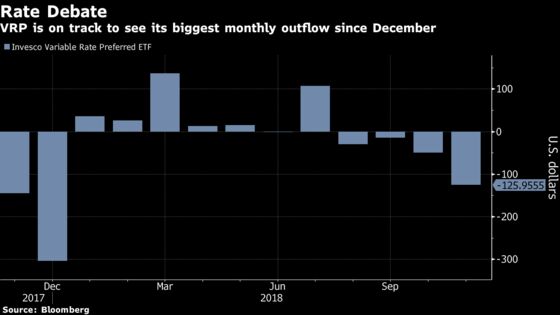 "As we get closer to year-end, most likely an investor is just cutting their losses," said Mohit Bajaj, director of exchange-traded funds at WallachBeth Capital. "I wouldn't be surprised if some of those assets just went into shorter duration Treasuries."
VRP is on track to see its worst month of outflows since December. Investors have pulled close to $126 million from the fund so far in November and assets have declined to their lowest level since November 2017. The fund, which is trading lower for a third straight day, is down 2.8 percent this month.
The Vanguard Short-Term Treasury ETF, known by its ticker VGSH, saw a huge block trade at 10:04 a.m. in New York, less than a minute after the VRP trade. More than 9.6 million shares of the fund worth around $577 million have traded Thursday.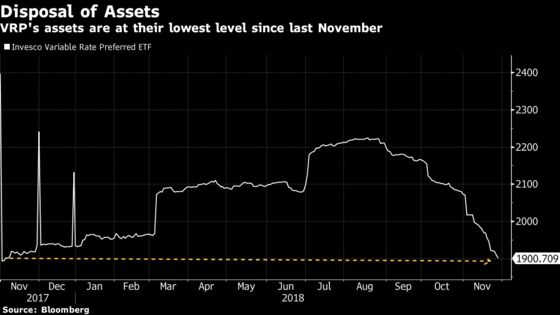 "The notional was much larger on the VGSH, but I wonder if part of the VRP went to that," said Bajaj. "The prints happened very close together. They could be all from the same person, especially following the Fed's comments."