Stocks Stage Roaring Comeback in Canada at End of Wild Week
(Bloomberg) -- Canadian stocks rallied into Friday's close as policymakers stepped up their response to the economic fallout from the coronavirus.
The S&P/TSX Composite Index jumped 9.7%, the most since October 2008. This comes after the benchmark plunged 10% on Monday and then 12% on Thursday as the pandemic heightened market fears of a global recession. For the week, the index sank 15%, its biggest weekly drop since the global financial crisis. South of the border, the S&P 500 Index followed a similar pattern with a 9.3% gain on Friday, but still slumped for the week.
In a speech late Friday, Trump said he plans to waive interest on all federal student loans, while WTI crude futures jumped about $2 per barrel after Trump said the U.S. will buy "large quantities" of oil for the Strategic Petroleum Reserve.
Meanwhile, the Bank of Canada cut interest rates by half a percentage point in an emergency move to buffer the nation's economy from the double hit from the coronavirus and tanking oil prices. Finance Minister Bill Morneau also unleashed a new facility to support funding markets for small- and medium-size businesses. This came after the central bank announced Thursday that it will inject billions of dollars into markets to shore up stability.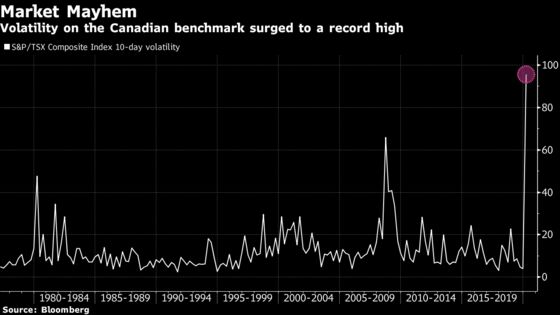 Volatility on the Canadian benchmark reached a record this week as stocks swung between losses and gains amid anxiety that swept across global markets on the global spread of the virus that has killed more than 4,700 people and an oil price war that has upended the energy sector. Canada generates about 9% of its gross domestic product from energy, and falling oil prices could threaten the existence of some of its drillers.
Canadian energy companies including Husky Energy Inc. are slashing their spending plans for this year as low oil prices make most production unprofitable, straining their cash flow.
"Volatility is normal. We're used to it. It just went away for a long period of time," Paul Moroz, chief investment officer at Mawer Investment Management Ltd. said. The firm is focused on companies with good balance sheets and good business models that can survive this.
Canada's energy stocks were the worst performers this week, sinking 26%, followed by materials and health-care shares. Pot producer Aurora Cannabis Inc fell 31% this week, while energy services firm ShawCor Ltd. dropped 71%.
"There is no denying that headlines, fear and rhetoric surrounding the coronavirus (Covid-19 virus) have become the primary driver of investment performance the past several weeks," Brian Belski, chief investment strategist at Bank of Montreal, said in a podcast Friday. "Investors should be mindful that perspective matters, to remain poised and patient in their decision making, and to trust their investment process."