Investors Shrug Off Regulators' Leveraged Debt Bubble Warnings
(Bloomberg) -- To hear the central bankers tell it, leveraged-debt markets are overheating and could face tougher rules. For investors, there's no bubble in sight and a fresh deal surge is on the way.
As developed economies learn to live with the coronavirus, M&A activity and debt refinancings have accelerated, driving lending to indebted firms to a near-record in the year so far in Europe. Loan prices are back to pre-pandemic levels and junk-bond yields have tumbled as waves of stimulus and inflation fears push investors into higher-yielding riskier credits.
"We have elevated valuations across many financial markets these days, and I would say the loan asset class is indeed well valued at this point," said Thierry de Vergnes, head of bank loans at Amundi SA, Europe's largest asset manager. "I don't think we are in market bubble."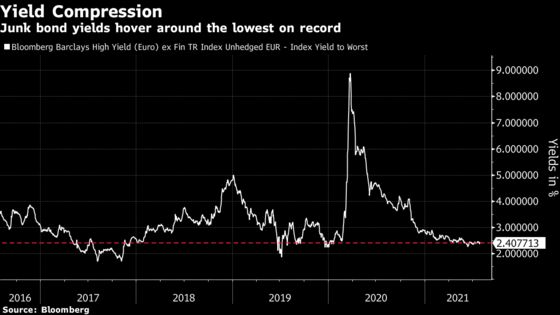 Officials at the European Central Bank and the Bank of England disagree.
European regulators have stepped up their scrutiny of credit risk at banks across the continent in the wake of the pandemic. The ECB told Deutsche Bank AG last month that it faces higher capital demands if it fails to slow the pace of lending to highly indebted clients.
Weeks later, BOE officials warned that the large share of high-yield bonds and loosening terms governing deals, particularly leveraged loans, "could increase potential losses in a future stress," according to the bank's July Financial Stability Report.
While the share of loan deals that included investor protections rose in 2020, just under 10% had a maintenance covenant in the second quarter this year, data compiled by Bloomberg show.
"Elevated asset valuations and compressed risk premia imply a vulnerability to a sharp correction," the BOE officials wrote.
But analysts and bankers at the big lenders are still optimistic about the outlook for high yield. After some signs of market fatigue and an August lull approaching, buyouts and take-private bids will replenish the deal pipeline in September, they say.
"We expect that market conditions, absent some huge shift in August, will remain constructive," said Jane Bradshaw, managing director of high-yield capital markets at Morgan Stanley in London. "The enthusiasm of investors continues for the products and investors are voting with their cash."
Despite the concerns of ECB officials, the regulator's accommodative policies bode well for indebted firms, and credit quality continues to improve, UniCredit SpA credit strategist Stefan Kolek wrote in a note last week.
And JPMorgan Chase & Co strategists led by Matthew Bailey recommend sticking with junk bonds and using any spread widening as a chance to bolster positions.
Any new restrictions prompted by the spread of the delta variant would likely lead to more fiscal and monetary policy support, "while shareholders are likely to remain willing to inject fresh capital where required," they wrote.
Just one high-yield deal was in the market on Thursday as the market enters a summer slowdown.
Software developer PeopleCert Wisdom Limited is seeking to price a 300-million euro bond
Credit Suisse was the latest European bank to post earnings; the lender reported 2Q profit that missed analyst estimates, adding to CEO Thomas Gottstein's challenges after the Archegos Capital Management and Greensill scandals hit the bank's reputation
Franklin Templeton, which oversees $1.5 trillion in assets, is betting ECB policy makers won't exclude companies that are still transitioning to more sustainable models
Yield premiums on Asia dollar bonds dropped sharply Thursday, but that wasn't enough to spur borrowers to return to the region's primary debt market.
Spreads tightened after China made efforts to soothe market nerves and the Federal Reserve gave reassurance that it's moving very gradually toward tapering stimulus
There was no major new offering in the U.S. currency in the region for a third straight day even as financial markets rebound from a selloff earlier in the week that was sparked by Beijing's crackdown on private enterprises
Investors should consider "gradually and selectively" buying Chinese high-yield dollar bonds after a recent selloff opened up an unsustainable gap with the latter's Asian peers, according to Owen Gallimore, head of trading strategy at Australia & New Zealand Banking Group
Two companies wrapped up high-yield debt sales on Wednesday, while the Federal Reserve held rates steady and said progress is being made toward conditions for dialing back support for the economy.
Jefferson Capital Holdings LLC made its market debut to become the 62nd inaugural borrower of the year, according to data compiled by Bloomberg

The company sold $300m of five-year bonds at 6% after discussions of around 6%. Jefferson Capital will apply the funds to repay loan debt and to fund a shareholder distribution

Jefferies Finance LLC raised $1b to refinance existing non-funding debt