Investors Poured $4.56 Billion Into Junk Bonds After Election
(Bloomberg) -- U.S. high-yield bond funds saw one of the biggest inflows on record in the last week, as investors gained confidence in riskier companies amid Joe Biden's presidential victory and progress on a Covid-19 vaccine.
Junk-bond investors poured $4.56 billion into retail funds during the week ended Nov. 11, according to data compiled by Refinitiv Lipper. It's the seventh largest flow into the asset class and the biggest since June. The prior week saw a net outflow of $2.2 billion.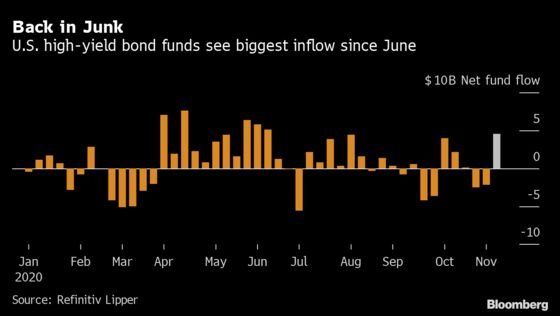 Investors also put cash into high-yield exchange-traded funds. HYG, the biggest junk bond ETF, saw an inflow of $851 million last Thursday, the biggest single-day gain in five months. JNK, another ETF, pulled in $558 million on Monday, the biggest such move in seven months.
Corporate investment-grade funds reported inflows of $3.47 billion for the latest reporting period after a withdrawal of $1.58 billion the prior week, the first exit since April. Leveraged loan funds saw a marginal $4 million outflow.
Despite a return to positive flows, high yield may still be on fragile footing as the junk CDX index fell by the most in two weeks Thursday, data compiled by Bloomberg show. Junk yields plunged to a record low of 4.56% earlier this week, with yields on debt rated CCC tier sinking to a six-year low.
High yield has been through a choppy stretch amid volatility caused by surging coronavirus infections and pre-election jitters that prompted several companies to scrap risky bond sales. As risk assets rallied, issuers returned to sell new debt, including Sizzling Platter LLC, which shelved borrowing plans last month.