Investors on the Front Line of CLOs Are Getting Cold Feet
(Bloomberg) -- Collateralized loan obligations are losing their appeal for first-loss investors who stand to reap the biggest rewards.
Returns on CLO equity are evaporating, and that's making it harder to find purchasers to take the riskiest -- but potentially most lucrative -- portions of the securitized debt bundles, according to an arranger.
"We have seen some equity buyers step away from the primary market," Jim Schaeffer, deputy chief investment officer at Aegon Asset Management, said in an interview. "Pressure on fees is occurring which helps compensate for this tighter arb."
The problem: unrelenting supply of CLOs is pushing spreads wider at the same time as margins on the underlying leveraged loans are shrinking. That leaves less residual cash on day one for the CLO equity, cutting returns to as low as 9 percent in some deals from an average of 23 percent two years ago, according to Schaeffer.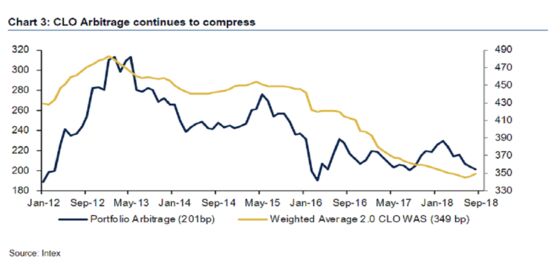 Even if arrangers ease up on fees, profits will continue to be squeezed unless loan spreads widen or CLO spreads tighten, Bank of America Corp. analysts said in a note last month. They blamed heavy issuance in the form of new CLOs as well as resets and refinancings.
Returns on the equity sliver of CLOs are driven by the arbitrage between the coupons payable on the debt tranches and the interest income from bundling floating-rate leveraged loans. When loans default, equity pieces absorb losses as the structure diverts cash flows to bondholders instead.
As long as U.S. growth keeps chugging along, even high debt loads look manageable and investors can push concerns about a potential bubble aside. But as monetary policy tightens and the business cycle ages, floating-rate debt burdens will look bigger, raising the risk of defaults for companies that rely heavily on leveraged loans.
In the last downturn, the proportion of U.S. CLOs that had to divert cash flow from equity investors peaked at around 56 percent, according to Wells Fargo.
While it may have become harder to source buyers for new deals, high-profile funds are circling the assets on the secondary market. Pimco is raising money for a fund that will buy CLO equity as well as debt cheapened by market selloffs.
The volume of outstanding CLOs has ballooned to more than $540 billion this year, up around 80 percent from the start of 2014. Equity tranches account for about a tenth of the total.