Citigroup's Surprise Indexes Flash Negative Around the Globe
(Bloomberg) -- A slew of weak economic numbers have caught analysts by surprise around the world and reinforced investor concerns that a deep global slowdown may be around the corner.
Indicators of whether data will beat or fall short of expectations are now negative in all major markets, according to Citigroup's economic surprise indexes. Citi's global benchmark touched the weakest since 2013 on Monday. Those readings were reinforced by unexpected cuts to growth forecasts by China, Europe and the OECD this week.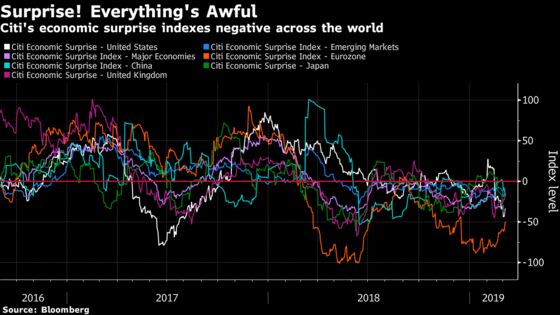 "We're still not seeing the kind of numbers that the market would like to see," said Tim Courtney, chief investment officer of Exencial Wealth Advisors in Oklahoma City. "The market is trying to determine, with days like today, whether or not this deterioration is bottoming and whether we start to see some strengthening and more healthy indications, and we just don't have it yet.''
Despite the host of disappointments, global assets are off to one of the best starts in years amid an about-face by central banks to address the growth concerns. U.S. and European stocks are up about 10 percent so far this year, while emerging markets have nearly matched that gain. But the rally may have lost some steam. Shares have struggled to push higher in March as the weak economic data rolled in.