Investors Focus on Spanish Government Coalitions
(Bloomberg) -- Spain's Socialist Prime Minister Pedro Sanchez won Sunday's general elections but will probably need the backing of other groups to remain in office and who he picks to form a coalition may be the key question for markets.
The IBEX 35 stock index is underperforming other European benchmarks in early trading, with utilities leading the decline. Banco Santander SA and Inditex SA, which have the largest and third-largest weightings in the benchmark, respectively, are trading ex-dividend.
Sanchez's clearest options are two: Partner with the liberal party Ciudadanos or team up with left-wing Podemos and Catalan separatists. While Ciudadanos ruled out a coalition with Sanchez's PSOE party during the campaign, investors see this option as the most market-friendly.
The IBEX 35 fell 0.5 percent to 9462.10 at 10:37 a.m. in Madrid, while the Stoxx Europe 600 Index was little changed. Ence Energia y Celulosa SA, Iberdrola SA and Cellnex Telecom SA are among the largest drops. The index is up 11 percent this year, making it one of Europe's worst-performing stock markets because of weakness in banks, which are struggling as low interest rates depress lending margins.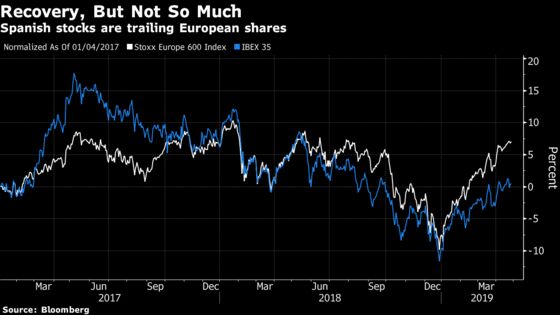 Here is what market participants are saying.
Javier Garrido, analyst JPMorgan
Sees a combination of PSOE, Unidas Podemos, regional nationalist and independentist parties as the most likely government coalition
Result is unlikely to have a very significant influence in Spanish utilities
"Utilities should still be significantly influenced as a group by the implications of the elections and the resulting new government on Spanish macro, particularly on the decisions of the new government on public spending and how these decisions influence on the Spanish country risk premium as well as on corporate taxes"
Antonio Garcia, economist at Barclays
Socialist-led and left-leaning government most likely outcome, but composition isn't straightforward
"If the left-leaning coalition talks were to fail, a more market-friendly (but less likely) coalition of PSOE and Ciudadanos could materialize"
Doesn't expect formation of new government until June/July due to European, regional elections in May
What Bloomberg's Economists Say
With a more stable government, lower risks of reigniting the political crisis in Catalonia and higher government spending, this should help political uncertainty to recede and allow the economy to maintain strong growth in the short-term.
--Maeva Cousin, economist
Click here to view the research.
Silvia Ardagna, strategist at Goldman Sachs
Coalition government likely to emerge but only after lengthy negotiations, which will probably start only after the regional and European elections on May 26
Forming a government could prove challenging given how fragmented Congress is
Can't exclude possibility of a minority government, or that a government can't be formed; also possible that coalition government won't remain in power for the four-year term and new elections will be necessary
Political, policy uncertainty will be of little consequence for the 2019 economic outlook, the type of government could matter for Spain's medium-term outlook
Gonzalo Lardies, Spanish equities fund manager at A&G Banca Privada
Results leave an open door for a PSOE-Ciudadanos pact, which is one of the best scenarios for markets
If Sanchez prefers pact with Catalan separatists while having the option of Ciudadanos open, it would be difficult to justify
The results give visibility and markets could have a positive reaction, although that could be in the medium term; in the first few days the possibility of a PSOE-Podemos-Catalans pact could weigh on sentiment
Doesn't expect any agreement soon
Jaume Puig, general director of Barcelona-based GVC Gaesco Gestion
Impact of elections in equities market shouldn't be significant as most Spanish companies obtain large part of their business from other markets
Next prime minister is clear but the pacts he may reach will be very different in terms of fiscal policies
As European and regional elections are to take place next month it's not realistic to think that the final pacts will be known before that, so the moment of truth for what comes next will not arrive until at least the end of next month
David Ardura, head of management at Gesconsult
The market usually doesn't react well to victory of a left-wing party, but the good result of Ciudadanos opens the door for PSOE to pick between different options to govern, which would offer some calm to the equities markets and bonds
Now it's time for negotiations and markets will be looking at Spain, but it shouldn't weigh too much on equities, at least until the final pacts become more clear
Roberto Scholtes Ruiz, chief investment officer Spain at UBS
Expect results to have limited market impact
"A left-leaning coalition would prioritize increasing social expenditures, funded by hiking taxes to comply with budgetary targets and could backtrack on some key structural reforms. This could put some upward pressure on the risk premium on certain Spanish financial assets but is unlikely to hurt the country's resilient economic growth"
Matt Siddle, European equities portfolio manager, Fidelity International
Sharp changes in direction and economic outlook are unlikely to result
The impact on European stock markets isn't likely to be as significant as when the elections in Italy led to a coalition between 5 Star and the League