Investors Flock to Short-Term Treasury ETFs Amid Market Turmoil
(Bloomberg) -- Investors are racing into exchange-traded funds that track short-term U.S. government debt to hedge against rising interest rates as stocks tumble to the worst month in seven years.
The SPDR Bloomberg Barclays 1-3 Month T-Bill ETF, ticker BIL, had the largest inflow since 2011 on Monday, with $581 million coming in. The fund has attracted more than $1.7 billion this month, putting it on track for the largest monthly inflow since August 2011. Meanwhile, the Goldman Sachs Access Treasury 0-1 Year ETF, or GBIL, has also seen high inflows, with around $110 million coming in since Oct. 22.
The surge of cash comes as the S&P 500 Index has fallen 7 percent in October, putting it on track for its biggest monthly decline since September 2011. As a result, equity investors are turning their eyes to the perceived safety of U.S. government debt. On top of that, fixed-income investors are shortening the duration of their Treasury bets as the Fed continues to raise interest rates.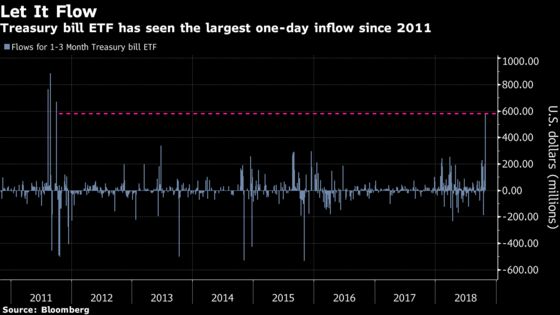 "With the weakness in the market, we have seen investors get out of both longer duration fixed-income and equities into BIL as a cash-parking vehicle," said Mohit Bajaj, director of ETFs at WallachBeth Capital. "They need to remain invested in something, so as a placeholder they invest in BIL."
Treasuries are increasingly attractive because of their rising returns. The yield on a three-month note is 2.33 percent, compared with the dividend yield on the S&P 500 of 2 percent.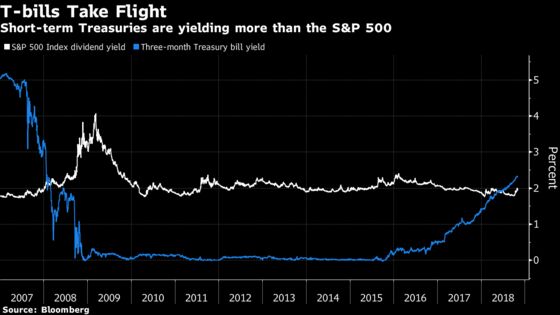 "The calculus is starting to change on risk sensitivity with Treasury bills at 2 percent," said Gennadiy Goldberg, strategist at TD Securities in New York. "It's changing the way investors look at markets."