Clients May Want to Change Their Hedging Habits, RBC Says
(Bloomberg) -- Some investors might benefit from changing when they think about buying protection, RBC Capital Markets suggests.
Skew, a measure of how expensive bearish options are compared with bullish ones, rose for many stock-market measures over the past week. That's no surprise given that the S&P 500 Index fell 13% in the seven sessions after it hit a record high last month. After a big gain Monday, the gauge dropped again Tuesday morning, falling 0.7% as of 9:50 a.m. in New York.
But as RBC equity-derivatives strategist Amy Wu Silverman notes, risk-on days with higher skews might be better for putting protective strategies in place.
"Anecdotally, I always find it it fascinating how many hedging questions I get when the market is knifing down (a lot) compared to bounce-back days like today (very few)," Wu Silverman wrote Monday. "The reality is: if you were considering an overall portfolio hedge, an up day with a rise in skew is a good time to implement put spreads."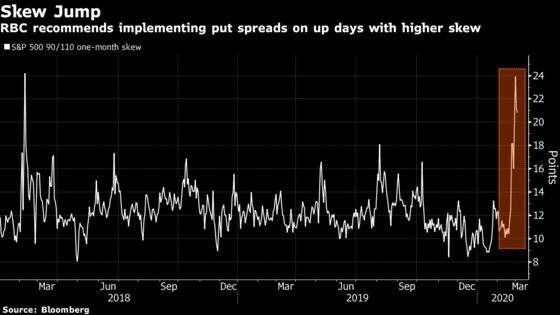 Wu Silverman highlights that a higher skew means you can buy more out-of-the-money calls with the sale of an equivalent put in the same underlying asset. And to take advantage of the current elevated levels, she recommends the iShares MSCI EAFE and iShares MSCI Emerging Markets exchange-traded funds as those with top payouts on March-April put-option spreads.
She isn't the only one suggesting the EAFE ETF with ticker EFA. Wells Fargo & Co. strategist Pravit Chintawongvanich recently noted that it tends to outperform as a hedge and advised using puts on it for protection because they outperform those of similar vehicles.
"In the days ahead, we will have PMIs and jobless claims," Wu Silverman said. "Although the market is buoyed by hope of central-bank action, monetary-policy aid will be limited in the face of a shock from ongoing coronavirus concerns."