Traders Fear Brexit With Second-Lowest Allocation on Record
(Bloomberg) -- Since the Brexit vote, big investors have only been as negative on U.K. stocks once before.
Fund managers' allocation to U.K. equities has crashed to a 39 percent underweight, the lowest on record after March of this year, according to a monthly survey by Bank of America Merrill Lynch. That follows data last week showing the nation's equity funds have lost $9.8 billion in 2018, on course for the worst year of redemptions on record.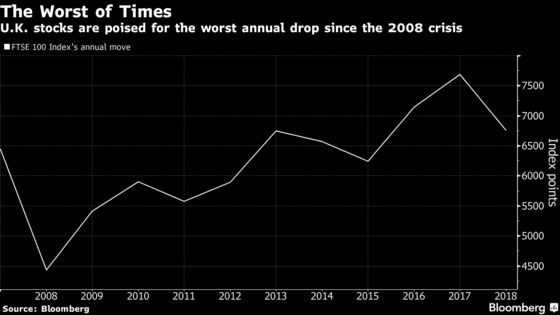 The benchmark FTSE 100 Index this month erased its 21st-century advance as the global equities sell-off was compounded by concerns that Prime Minister Theresa May will struggle to get her Brexit deal through Parliament. The gauge is down 12 percent this year, set for the worst annual decline since 2008. May is still hoping for more concessions from the European Union, and on Monday announced that the deal will finally be put to a vote in the week of Jan. 14.
BofA's fund manager survey included 243 participants with $694 billion under management and was conducted Dec. 7-13.
Some investors, like UBS Wealth Management, say the drop in U.K. shares has gone too far. The firm's position in the nation's stocks is neutral with a preference for a diversified dividend strategy.
"We believe that the equity correction is overdone," Caroline Simmons, a strategist at UBS Wealth Management, said in a note on Tuesday. "In 2019, we expect economic growth to regain some momentum and remain robust, leading modest market upside, especially now that U.K. equity valuations are below their long-run averages."
HSBC Private Bank also takes a neutral approach to U.K. stocks and the pound because of a lack of clarity on the outcome of the Brexit talks.
"The closer you get to the decision time, and if you have a positive or a negative scenario, then you need to go neutral," Willem Sels, chief market strategist at HSBC Private Bank, said in a phone interview. "It's counter-productive to try to make a call and then get it wrong."